Home Camera Articles FOR SALE Orders I Buy / Wants Repairs Books Adapters
Vivitar's Excellent Series One Adventure
In 1975 Vivitar introduced a new line of "Series One" lenses intended to compete with the best that anyone had to offer. Vivitar proudly touted Series One designs as being on the leading edge of optical design.
Vivitar's claims were unusual, if not unique for the time. It was unheard of to see an independent re-seller trying to compete with camera manufacturers in terms of optical excellence. No other independent lens company had ever tried to compete across the board on a lens lineup. By and large they succeeded. Besides quality, the new Series One boasted new developments in optical design that were widely admired...and copied. These new lenses were outstanding and loaded with new features not seen before.
Advertising claimed Vivitar met US Space program optical requirements and used the "largest computers" to design Series One lenses. Rather astounding claims, but even more astounding because Vivitar was only an American photo sales company, not a camera or lens manufacturer!! Vivitar's advantage was boldness and innovation.
Vivitar Series One lenses really made a splash at the time, especially the best selling and ground breaking 70-210 Macro Zoom. Most photogs were amazed at this first Macro Zoom. Many just felt they wouldn't be able to hold their camera bags proudly if they didn't have one. Today of course, almost all zooms have a macro feature. When you use your macro zoom, do what I do and remember to take your hat off and have a moment of silence for it's forgotten ancestor, the Vivitar Series One 70-210 Macro Zoom. (Do I get carried away with this historical stuff or what?) Most Series One lenses were reportedly made by Kiron in Japan. In later years Kiron would introduce an excellent series of lenses to the American market under their own name. Today Kirons are well worth looking for. Their excellent performance is often found at giveaway prices because the seller is not familiar with the House of Kiron.
Never before, or since, had a non camera manufacturer introduced so many unique leading edge lens designs upon 35mm consumers. Completely unique for their time, the Series One lineup boasted a 28/1.9, 90/2.5 Macro, 135/2.3, 200/3, 24-48/3.8, 35-85/2.8 Variable focus, 70-210/3.5 Macro zoom, 90-180/4.5 Macro Zoom, and three mirror lenses of a new heftier "Solid CAT" design, the 600/8, and 800/11. The 90/2.5 Macro shared the honor with the illustrious Leitz Dual Range Summicron of having the highest resolution of any lenses tested by the great, late, and sorely missed American photography magazine, Modern Photography. The lens lineup was filled out by the super performing, but not so unique 135/2.3 and 200/3. Unfortunately and predictably, Vivitar's leap into the big leagues did not last for long. By 1981 all original Series One lenses were discontinued except the 800/11 and 70-210/3.5 Macro zoom. A few outstanding designs followed, but not in the previous quantity. 1983 saw the introduction of the very interesting 450/4.5 Vivitar Series One mirror lens with a plastic aspherical front element.
---
Vivitar Series One 90-180/4.5
Flat Field Macro Zoom
The Vivitar 90-180/4.5 was originally designed for medical photographers who needed maximum magnification at a great camera to subject distance. It was optimized for 1:10 and features outstanding performance. In the words of Modern Photography's test of June 1978, "the combined abilities and quality of image of this Vivitar Series 1 lens are not even approached by any other zoom lens. It is by far the best close-focusing zoom going." Yet it is also immanently usable for nature photography of small insects or flowers, or small product photography such as jewelry. Today it's difficult to find, and well worth looking for.
Nicely finished in black, the 90-180 features a rotating locking tripod mount, separate diamond knurled focus and zoom control rings, and clearly marked reproduction ratios though out the zoom range. Weighing in at 38 oz, Vivitar used Multi-coating in its 18 element, 12 group design. Filter size is 72 mm. Minimum aperture is f/22. Minimum focus distance is 27" for 1:2 ratio at 180mm. Mounts were available in Nikon NAI and AI, Canon FD, Olympus OM, Pentax K, Pentax M42, Konica Autoreflex and Minolta MD. There was also a special matched 2x tele-extender designed specifically for this lens which provided superb image quality at 1:1.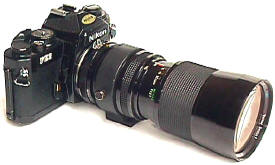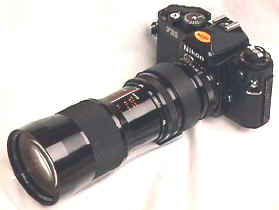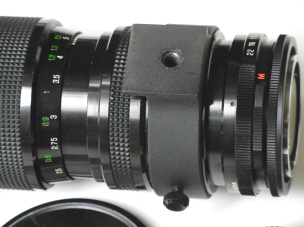 Mounted on a Nikon FE-2, shown at infinity and maximum close-up focusing positions.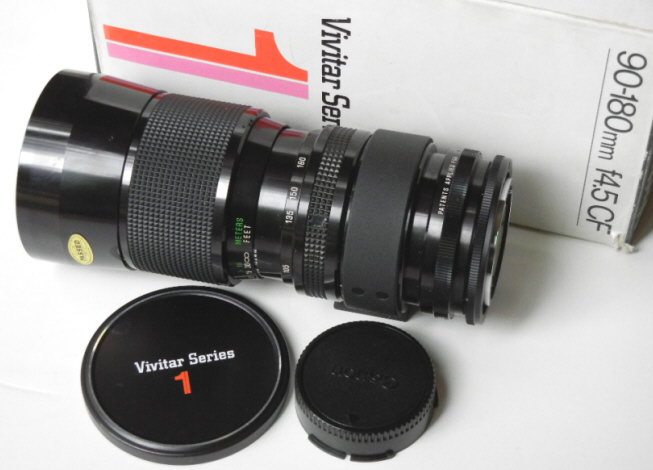 Note the easy to grip diamond grip focusing helical and zoom ring, along with the solid locking rotating tripod mount.
---
Home Camera Articles FOR SALE Orders I Buy / Wants Repairs Books Adapters
Revised: April 19, 2011 . Copyright © 1998-20011 Stephen Gandy. All rights reserved. This means you may NOT copy and re-use the text or the pictures in ANY other internet or printed publication of ANY kind. Information in this document is subject to change without notice. Other products and companies referred to herein are trademarks or registered trademarks of their respective companies or mark holders.