Home Camera Articles FOR SALE Orders I Buy / Wants Repairs Books Adapters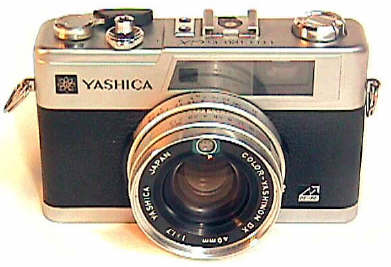 Yashica Electro 35 GX 40/1.7 lens

I have never encountered this camera before. Strangely enough, it is NOT in the Collector's Guide to Japanese Cameras. I am told it is the last of the long line of 16 Yashica Electro cameras, vintage 1975.
This is an interesting camera with electronic shutter, 40/1.7 6 element lens, aperture priority, parallax correction, nice VF/RF, and convenient controls.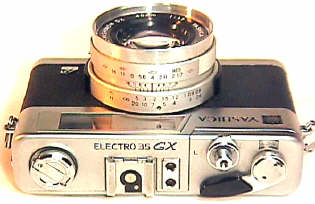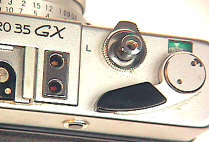 On the Plus Side
Nice VF/RF with Parallax correction. This is the only camera of the CameraQuest Compact 35 RF group besides the Canonet QL17 which has Parallax correction. It's a very expensive feature for this class of compact 35 RF camera.
The framelines and RF spot are a gold color, the field of view has a darker green color, creating a contrast that makes the rangefinder and viewfinder lines very easy to follow.
40/1.7 six element lens
Aperture priority, no manual set shutter speeds
Electronic shutter for increased shutter accuracy
Shutter lock around the shutter release
Battery check on back edge of top plate, it lights up the frame counter
PC connection and flash hot shoe
Shutter speed range 1/500th to several seconds
Viewfinder green/red LEDs (and on top plate) to warn of shutter speeds 1/30th and lower
CDS cell inside filter ring, to providing exposure compensation with most filters.
Flash sync at all speeds via Copal shutter and PC connection.
Lens focuses down to 2.6', slightly closer than usual for this camera class.
ASA range of 25-800 (wide for this class of camera)
Automatic flash exposure providing you use the ES-20
Battery PC640A Alkaline cell
On the Negative Side
No manual exposure over-ride possible, other than adjusting ASA for compensation.
NO indication of shutter speed, only LED's indicating OK/Not OK.
VERY hard to find.
---
This is a very nice handling, not well known camera. Appreciate it if you can find it.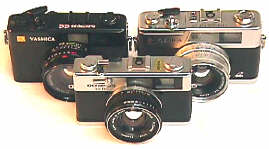 This group shot compares the size of the black Yashica 35CC, the Yashica 35GX, and the Olympus 35RD.
---
Revised: November 26, 2003 . Copyright © 1998-2002 Stephen Gandy. All rights reserved. This means you may NOT copy and re-use the text or the pictures in ANY other internet or printed publication of ANY kind. Information in this document is subject to change without notice. Other products and companies referred to herein are trademarks or registered trademarks of their respective companies or mark holders.