New Improved CameraQuest Film Rewind Lever V4
for Leica MP M3 M2 Rangefinders - ORDER HERE
Made in USA -- Silver Chrome or BLACK Chrome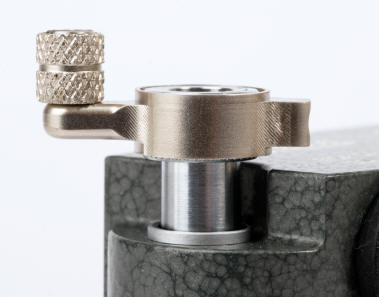 ---
History of Leica M3/M2/M1/MP Add On Leica Film Rewind Levers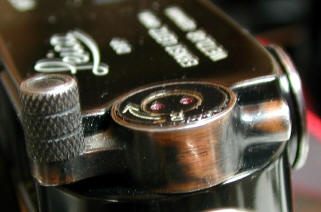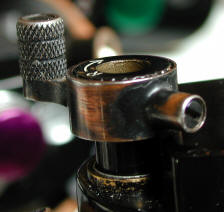 elegantly made of machined brass, this version is believed to have been made for Magnum photogs in the 1950/60's
As wonderful as the Leica M3 and M2 are, father Leitz arguably screwed up one part of the design, the slooooow and by then outdated rewind KNOB. Various add on film rewind levers have been offered for sale over the years, but none were offered for sale by Leica -- so far as I know anyway - until the recent and not so great MP 2003 Leica Rewind Lever.

A minor but important accessory to many Leica users, add on film rewind levers generally slip over the existing rewind knob, and attach by means of a set screw. Not well publicized, some photogs don't know add on film rewind levers like these exist. Manufactured over the years by an unknown number of makers in different countries with different designs, there are many versions, and most of them undocumented as far as manufacturer. If you have a version not shown here, send me a JPEG and I will add it to the page. No one that I know seems to be an expert on all the different types. Most of the film rewind levers shown here are from the Uncollectibles of Tom Abrahamsson.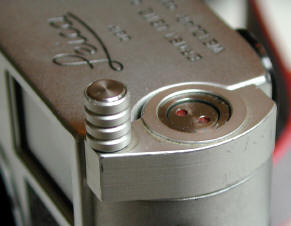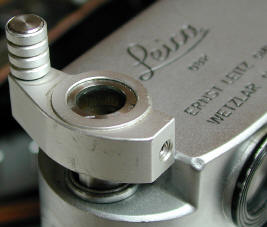 believed to be of Japanese manufacture made of aluminum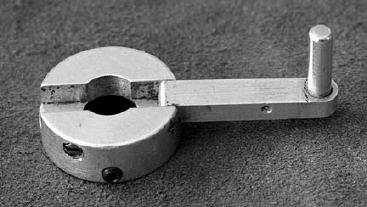 Aluminum folding film rewind levers of unknown origin from the collection of Ed Schwartzreich. Picture copyright Ed Schwartzreich 2003 all rights reserved.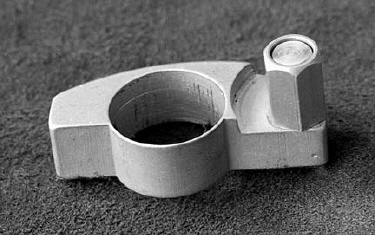 Aluminum, of American manufacture from the collection of Ed Schwartzreich. Picture copyright Ed Schwartzreich 2003 all rights reserved.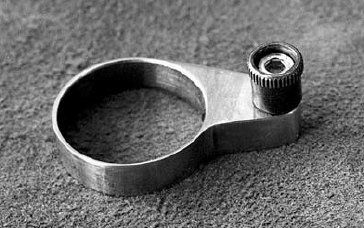 Stainless steel lever of unknown origin from the collection of Ed Schwartzreich. Nicely made, but the rewind handle is too small. Picture copyright Ed Schwartzreich 2003 all rights reserved.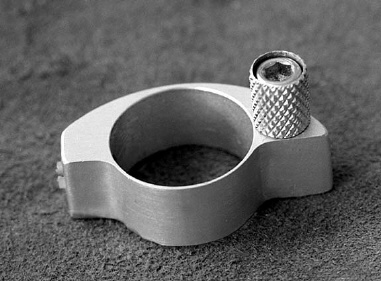 Aluminum rewind produced by LHSA member Mike Barnes in the early '90s from the collection of Ed Schwartzreich. Picture copyright Ed Schwartzreich 2003 all rights reserved.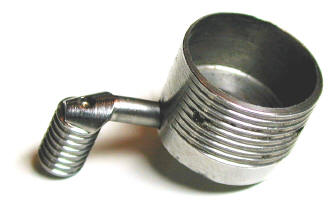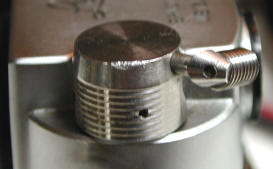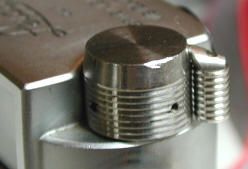 This is the most elegant and unbelievable solution. Machined out of stainless steel, it features a film rewind lever that folds back down into add on knob ! Famed photojournalist Bill Pierce solved the mystery of this rewind's heritage for me. He emails
"The super-elegant rewind knob was made by Fons Ianelli, the best of the photographers at Scope, one of the NY based photo agencies of yesteryear. As to whether Fons did the actual production after the prototypes, I don't know. But Fons was brilliant technically as to both cameras and darkrooms. (In fact, Scope is now a custom darkroom service; I don't think the photo agency has existed for years.)

The outer and inner circles that describe the exterior of the winder and the cavity the rewind knob slips into do not have a common center. The outer wall of the rewind is thinner at one point to allow the entire unit to go flush with the body when the rewind knob is pushed back into the camera body. We all used them, and I mean everybody"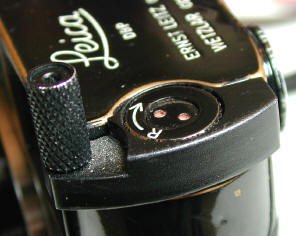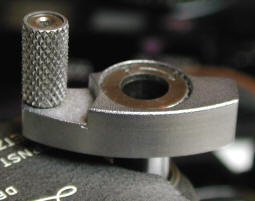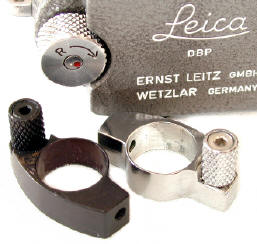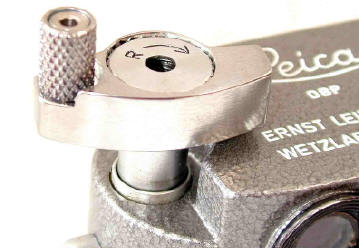 this is the now discontinued Wasserman Rewind, made in the USA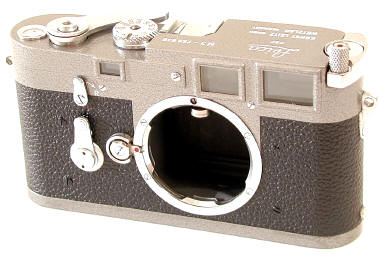 ---
Rare "Barnack" Leica Screw Mount Prototype Leica Rewind Lever
In 1996 Ed Schwartzreich, prominent LHSA member, had 10 screw mount "Barnack" Leica rewind attachments made to his own specifications. A nifty idea, they do fit the IIIc and IIIf easily, and some IIIg. According to Ed, this particular design has two problems. With variations in manufacturing tolerances, on some top plates it would foul the top plate. The other problem was that the telescoping winder arm tended to open up, but that could be solved with a bit of Vaseline jelly.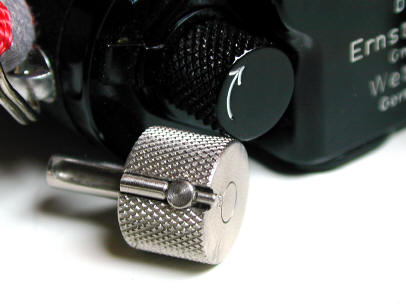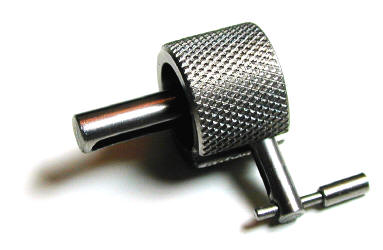 ---

Leica 2003 MP Film Rewind Lever Attachment

In 2003 Leica reintroduced the M3/M2 type film rewind knob on the new Leica MP, along with Leica's first add on knob rewind attachment. Available in either chrome or black paint, retail price of the rewind attachment is about $270 US. Sorry Leica, as much as I wanted to like this rewind, it could easily have been a lot better, especially for this kind of money.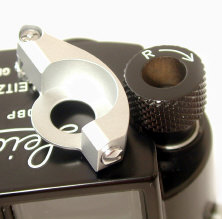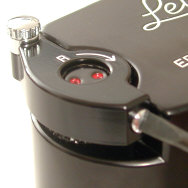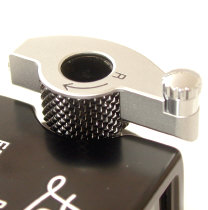 Tighten down the set screw with the Leica provided screwdriver.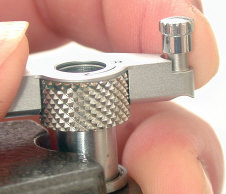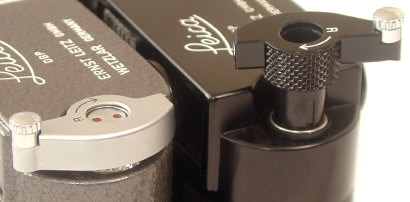 The smaller than needed rewind tip is spring loaded into the down position, making it more difficult to use during rewinding.

OK, it IS well made, and it does LOOK good. The problem is that after a half a century, I would think Leica would come up with a design that WORKS well. The tip of the rewind knob is only about half the size it needs to be used comfortably. On top of that, the tip is spring loaded to be kept in the down position, which makes it just that much harder to grip when rewinding. Sorry Leica, this easily could have been a much better product. Even so, I do prefer it to the slow knob rewind. Leica engineers: Copy the Magnum rewind on the top of this page!
CameraQuest M3/M2/MP Film Rewind Lever V1

Sold out and Discontinued in 2006
The CameraQuest M3/M2/MP film rewind lever is similar to the famous Magnum rewind attachment, only made of aircraft aluminum alloy instead of brass. Personally I greatly prefer it to Leica's more expensive Leica MP rewind attachment. This rewind is a pleasure to use, so much so that it effectively eliminates any negative feelings you might have regarding the M3/M2/MP so far as their slow working rewind knob. Easy and sure to grip, fast to rewind, you can't ask much more of a rewind attachment than this. It is secured in place by a set screw. Two versions, one for the M3/M2, and one for the MP 2003. The weakness of this design was not being machined from a single piece of brass, so it was not as strong as it might have been.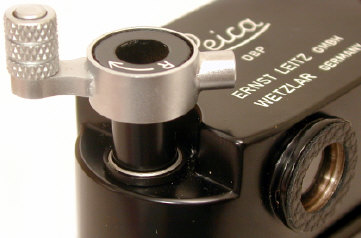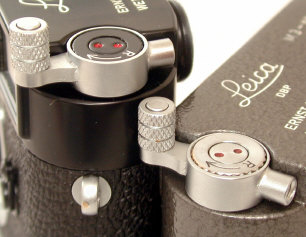 CQ Film Rewind Lever mounted on M2, CQ Donut Eyepiece Protector on M2 eyepiece, mounted on Shintaro painted black paint M2 and grey hammertone M3. CQ Rewind mounted on MP 2003. Available in silver only. The set screw makes metal contact with the rewind knob, so if you want to avoid a scratch on that black MP rewind, a small piece of nylon or plastic in the set screw channel between the rewind and the set screw may do the trick.
---

CameraQuest Film Rewind Lever V2

for Leica M2/M3 Rangefinders

Made in USA Nickel Chrome or Brass or BLACK Chrome

Sold out 2013

"

+1 for the CameraQuest M3/M2 Rewind Lever

---

I just got mine today; it's perfect and worth every penny of the already reasonable price. I've tried older versions and the current Leica version, returning or selling all of them. This one will stay. After about two weeks with my rewind levers, I can only reaffirm that these are great. The time to rewind film is at least cut in half; very useful for street shooting or events that require moments not to be missed."

Alex Hime Photo Copyright Alex Hime 2012, All Rights Reserved

I never liked using the film rewind knob on the Leica M2/M3 - and that did not change at all with the new current MP. I always found the rewind knob uncomfortable, slow and cumbersome. My new V3 film rewind makes rewinding the film a much faster and comfortable experience.

The new rewind is VERY STRONG -- machined from a single piece of brass alloy. There are only 4 parts: the body, the rewind knob, the rewind knob screw, and the retaining screw which is teflon tipped to protect your rewind knob. A hex wrench is provided to lock down the rewind to the camera's rewind knob. V2 is for M3/M2 only. V3 is slightly improved. The chrome plating is a warmish Nickel chrome. Due to modern EPA standards virtually no shop plates the old style bright chrome of the past. Made in USA!

I hated using the rewind film knob on my first Leica, an M3. As a result, M2/M3 film rewind levers became a hobby and specialty product for me. I can honestly say these new rewinds are the best I have ever seen. Really!

---

CameraQuest Film Rewind Lever V4

for Leica MP M3 M2 Rangefinders - ORDER HERE

Made in USA -- Silver Chrome or BLACK Chrome


after 3 years the world's best Leica MP M3 M2 M2 Film Rewind Lever starts shipping June 2017

New version will fit MOST (but not all) Leica MP's

The problem, strangely enough, is that there can be considerable variation with Leica MP top plates!

Some MP's definitely have MORE space between the top plate and the rewind lever than others!

I always hated the film rewind knob on my first Leica, an M3. The knob rewind just made rewinding film way too slow and cumbersome!

There have been many attempts over the years to make a good M2/M3/MP rewind film levers. I have a collection of them.

Seriously, this is the best I've ever seen. It will greatly speed up your overall shooting and make film rewinding a quick and easy task!


The new rewind lever is designed not only to be compatible with the M2 & M3, but with most Leica film MP's as well!

The lever is very strong and rugged, machined out of a single piece of brass alloy, then silver or black chromed.

Be VERY careful mounting the rewind lever.

Oddly enough there are considerable variations in how close the film rewind knob fits to top plate, especially on the MP bodies.

To install, just drop the rewind lever over the rewind knob (in down position), then tighten down Teflon tipped screw onto the rewind knob.

DO NOT force it! If the fit is too tight, you could scratch the top plate of your camera. We estimate the rewind lever will fit 95% plus of the M film bodies,

IF the rewind does not fit YOUR MP, you can have your local repair tech adjust the rewind position so the rewind lever can fit.

This is a CameraQuest product, made in the USA.



The World's Best? Am I kidding?

Really, No kidding!

---
---
Home Camera Articles FOR SALE Orders I Buy / Wants Repairs Books Adapters
Revised: September 09, 2017 . Copyright © 2003-13 Stephen Gandy. All rights reserved. This means you may NOT copy and re-use the text or the pictures in ANY other internet or printed publication of ANY kind. Information in this document is subject to change without notice. Other products and companies referred to herein are trademarks or registered trademarks of their respective companies or mark holders.