CameraQuest Home Shopping Cart Price List Camera Articles I Buy / Wants Repairs Books Adapters
Nikon S2 Black Dial Rangefinder Prototype?
The Black Dial S2 starts at serial number 6180000 according to Rotoloni's "Nikon Rangefinder Camera." This camera is number 6179532 and sports a curious mix of black dial and chrome dial features.
The focusing helical is chrome, like the chrome dial S2's. Yet the Synchro dial around the rewind knob, the shutter dials, and the frame counter are black, like the later black dial S2's.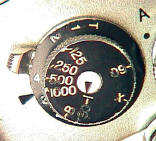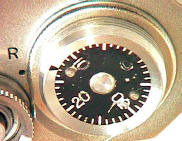 Closer examination shows the high and low speed shutter dials and the frame counter to be painted black over chrome parts. The edges of the high speed dial does not have the rim of the later black dial versions.
The painting is very well done, professionally it appears to me.
I am not really sure if this is a prototype as I suspect, or just a well done conversion many years ago. It will be interesting to see if similar S2's turn up in this serial number range.
---
Voigtlander Nikon/Contax Rangefinder Cameras and Lenses
Voigtlander Bessa R2S R2C Rangefinders in Classic Nikon or Contax Rangefinder Mounts
Voigtlander Bessa R2S 50/3.5 Heliar S NHS Commemorative in Classic Nikon Rangefinder Mount
Voigtlander SL 12/5.6 and 15/4.5 Aspherical widest EVER for NRF
Voigtlander Nikon Rangefinder SC Mount Lens Intro 21/4, 25/4, 35/2.5 intro
Voigtlander Nikon Rangefinder SC Lenses: SC 21/4, SC 25/4, SC 28/3.5, SC 35/2.5, SC 35/1.2 Prototype, S 50/1.5, S 50/2.5, S 50/3.5, S 85/3.5
Voigtlander VC Meter II small compact silicon meter with LED readout for Nikon Rangefinders
---
CameraQuest Home Shopping Cart Price List Camera Articles I Buy / Wants Repairs Books Adapters
Revised: September 12, 2017 . Copyright © 1998-2002 Stephen Gandy. All rights reserved. This means you may NOT copy and re-use the text or the pictures in ANY other internet or printed publication of ANY kind. Information in this document is subject to change without notice. Other products and companies referred to herein are trademarks or registered trademarks of their respective companies or mark holders.