CameraQuest Home Shopping Cart Price List Camera Articles I Buy / Wants Repairs Books Adapters
Amedeo Nikon Rangefinder / Contax Rangefinder Adapter
to digital Sony E NEX Full Frame Adapter
One Ring to Rule Them All ! ORDER HERE
This new superbly made adapter mounts practically all internal OR external Mount classic Nikon OR Contax Rangefinder lenses to Sony NEX cameras

- APSC or Full Frame Format! Use both external or internal mount lenses with this single adapter!

So far the only reported lens this adapter does not work with is the 21/4 Nikkor.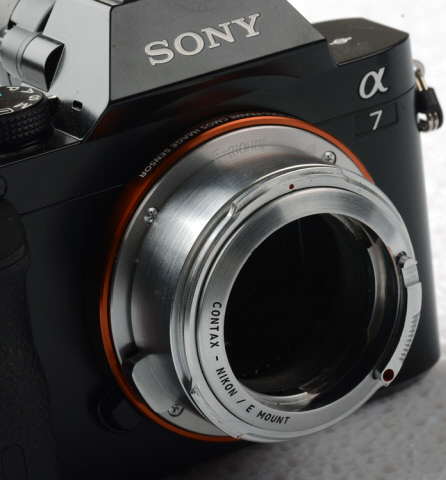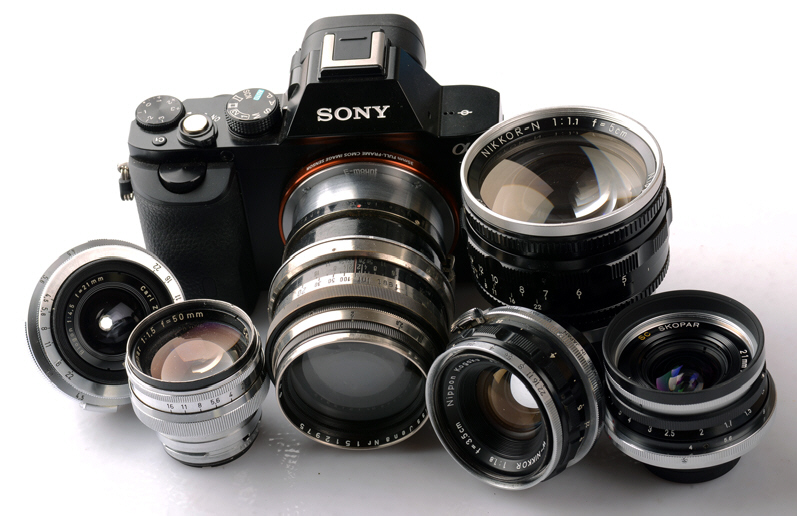 Historically adapting classic Nikon and Zeiss Contax rangefinder lenses (produced for film rangefinder cameras circa 1933 to circa 1965) to other cameras has long been a problem. While very similar, the odd Nikon and Contax rangefinder mounts with BOTH internal and external bayonet mounts were not exactly the same, requiring separate Nikon or Contax rangefinder coupled adapters to achieve accurate focus. Being rangefinder coupled lenses they could be adapted to another rangefinder camera - and the only bodies that worked well with such a conversion from 1932 to 2003 were film Leica screw mount or M mount rangefinders - via the rangefinder coupled Orion and similar adapters. The first digital adapted option possible was the first Leica M mount rangefinder camera, the Epson RD1 in 2003 using the same Orion and/or similar adapters. Over time more digital Leica M rangefinders were introduced, including the full frame Leica M9 and M240 series. Still, one problem remained. The necessary adapters still had the same limited throat size, excluding popular lenses including the 35/1.8 Nikkor, 50/1.1 Nikkor, prewar Zeiss 35/2.8 Biogon, and the wide angle Voigtlander Nikon Rangefinder lenses. So no great adaptable solution existed for shooting these wonderful lenses on a full frame digital camera until .. Ta Dah Ta Dah .. the introduction of the not so expensive and even more adaptable full frame Sony A NEX 7 series in late 2013.

SOLUTION: The full frame Sony A7 Alpha series (7/7r/7s/7II etc) and this new Amedeo adapter mark a new digital beginning for classic Nikon Rangefinder / Zeiss Contax Rangefinder / Russian Kiev rangefinder fans. For the FIRST time virtually all of these lenses can be used on a relatively inexpensive full frame digital camera with a SINGLE adapter! With both external and internal bayonet mounts the superbly made Amedeo adapter mounted every lens I tested, including the 35/1.8 Nikkor, 50/1.1 Nikkor, 21/4.5 Zeiss, prewar Zeiss 35/2.8 Biogon, and the wide angle Voigtlander Nikon Rangefinder lenses. Prior to this remarkable adapter, it took several adapters to adapt all the lenses this one versatile design can handle. While the rangefinder 21/4 Nikkor will mount, the metal prong protecting the rear element will damage the light chamber. The Sony A7 and A7s sensors are more friendly to adapted rangefinder wide angle lenses than the A7r's sensor.

As NEX adapters have no need for rangefinder coupling and the resulting helical thread focusing, a larger throat is possible allowing the mounting of large rear element lenses like the 35/1.8 Nikkor, 50/1.1 Nikkor, 21/4.5 Zeiss, prewar Zeiss 35/2.8 Biogon and the wide angle Voigtlander Nikon Rangefinder lenses which will not mount on most Nikon / Contax Rangefinder to Leica Rangefinder adapters. Since there is no rangefinder on the NEX 7 series, she slight focusing differences between the Nikon and Contax RF lenses make no difference since on the 7 series you focus thru the lens SLR style on the EVF or rear LCD! Finally we have ONE adapter to mount the vast majority of all NRF / CRF lenses - One Ring to Rule them All (almost).

Look closely: on the left you will see the rotating internal bayonet mount for 50mm lenses (identifiable by the CONTAX-NIKON / E-MOUNT engraving) and the outer bayonet for the external mount bayonet lenses which the internal bayonet mount rotates within (identifiable by the outer mounting flanges) Turned over, you can see the robust mount as well as the helical for the rotating internal mount bayonet.
Equally hard to fit on most adapters is the fabulous pre-war external mount Zeiss Biogon 35/2.8 - generally considered the best pre-war wide angle 35mm format lens. Its huge rear element will not allow mounting on even the post war Zeiss Contax IIa or IIIA, yet it mounts easily on the Sony 7 Alpha series with this wonderfully well made adapter. External mount lenses mount on the outer bayonet and have their own focusing helicals.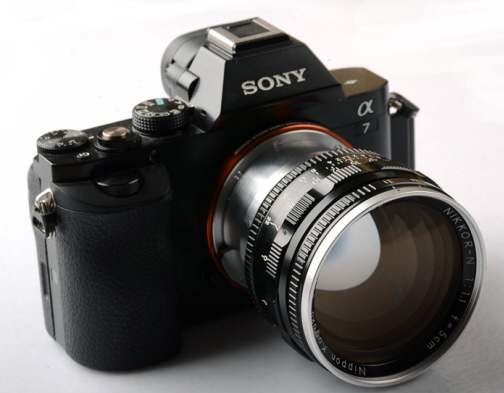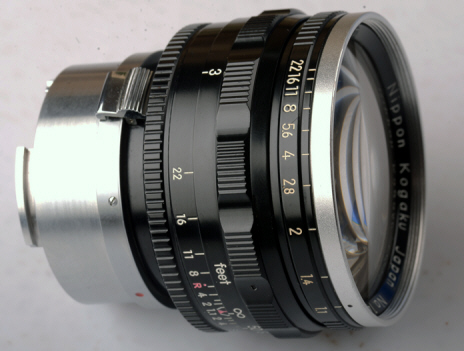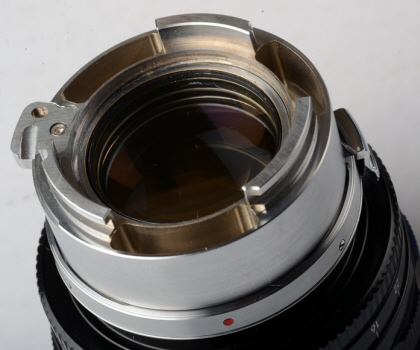 With their large rear elements, the 50/1.1 and 35/1.8 Nikon Rangefinder Nikkors will not mount on most NRF to Leica Rangefinder adapters, but there is no problem here!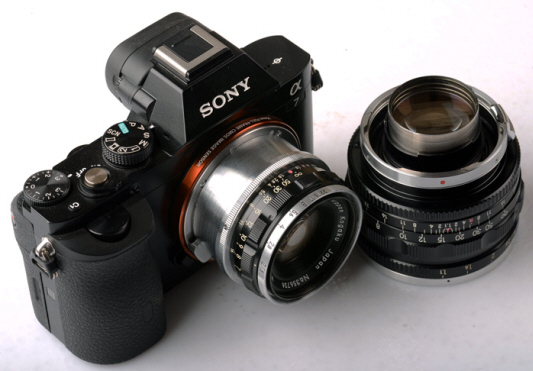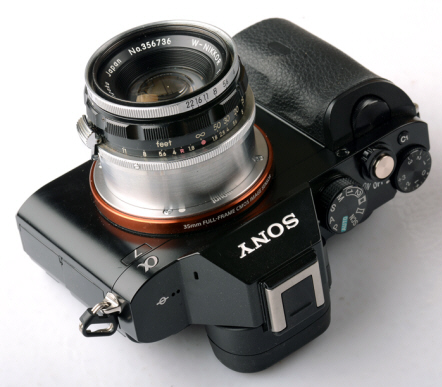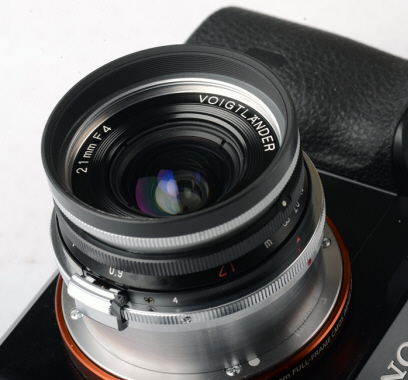 Above are mounted the 35/1.8 Nikkor and the Voigtlander 21/4 in Nikon rangefinder mount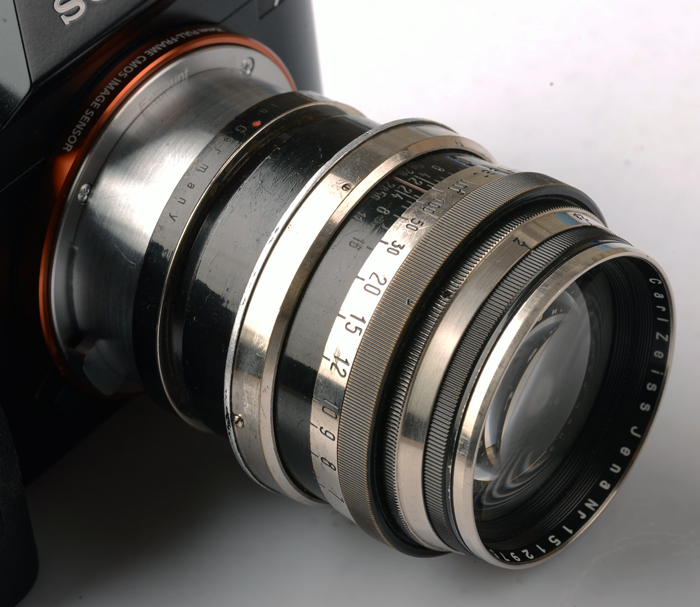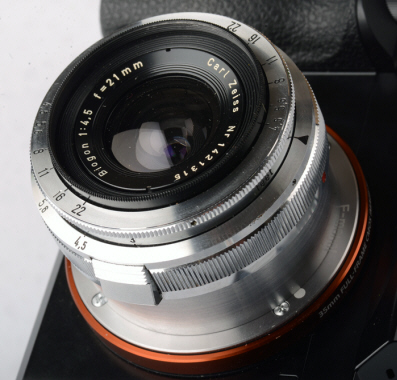 Above are the hard to find pre-war black/nickel 85/2 Sonnar for the Contax I, and the popular 21/4.5 Zeiss Biogon for the post war Zeiss Contax IIa / IIIa.

---

Voigtlander Nikon/Contax Rangefinder Related Products

Voigtlander Bessa R2S R2C Rangefinders in Classic Nikon or Contax Rangefinder Mounts

Voigtlander Bessa R2S 50mm f/3.5 Heliar S NHS Commemorative in Classic Nikon Rangefinder Mount

Voigtlander SL 12/5.6 and 15/4.5 Aspherical widest EVER for NRF

Voigtlander Nikon Rangefinder SC Mount Lens Intro 21/4, 25/4, 35f/2.5 intro

Voigtlander Nikon Rangefinder SC Lenses: SC 21/4, SC 25/4, SC 28/3.5, SC 35f/2.5, SC 35/1.2 Prototype, S 50mm f/1.5, S 50f/2.5, S 50mm f/3.5, S 85mm/3.5

Voigtlander VC Meter II small compact silicon meter with LED readout for Nikon Rangefinders

---

CameraQuest Home Shopping Cart Price List Camera Articles I Buy / Wants Repairs Books Adapters

Revised: July 10, 2021 . Copyright © 2014 Stephen Gandy. All rights reserved. This means you may NOT copy and re-use the text or the pictures in ANY other internet or printed publication of ANY kind. Information in this document is subject to change without notice. Other products and companies referred to herein are trademarks or registered trademarks of their respective companies or mark holders.