Home Camera Articles FOR SALE Orders I Buy / Wants Repairs Books Adapters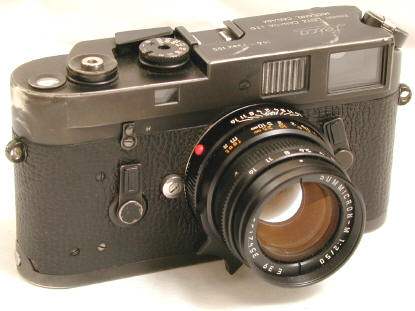 Black Chrome Leica M4 Ernst Leitz Canada
Geez, some people really have their nerve, actually USING Leicas to take pictures of all things, instead of carefully storing their Leica prize so it can never be scratched or get a speck of dust. This is one of the rarer Leicas, a black chrome M4 with the top plate engraved "Ernst Leitz Canada LTD, Midland Canada." Only 550 were so engraved in 1974.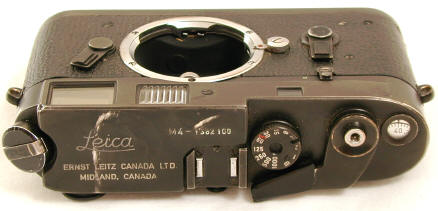 This camera was bought in 1974, in of all places Toronto, by noted Hollywood Celebrity Photographer Mark Lipson. As you might suspect, he used it, for 26 years. It's very strange what can happen to Leicas when they are mistaken for cameras instead of instant collectibles.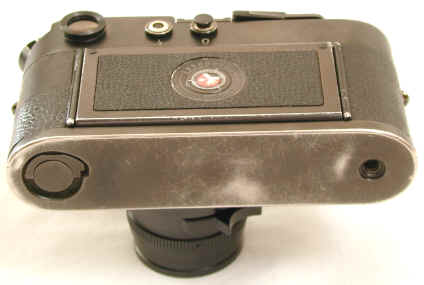 Compare this camera with the black enamel M4-MOT: black enamel and black chrome definitely wear differently. The 50/2 is not the same vintage as the camera.
---
Home Camera Articles FOR SALE Orders I Buy / Wants Repairs Books Adapters
Revised: February 20, 2004 . Copyright © 1998-2002 Stephen Gandy. All rights reserved. This means you may NOT copy and re-use the text or the pictures in ANY other internet or printed publication of ANY kind. Information in this document is subject to change without notice. Other products and companies referred to herein are trademarks or registered trademarks of their respective companies or mark holders.