CameraQuest Home Shopping Cart Price List Camera Articles I Buy / Wants Repairs Books Adapters
Nikon S2 Rangefinder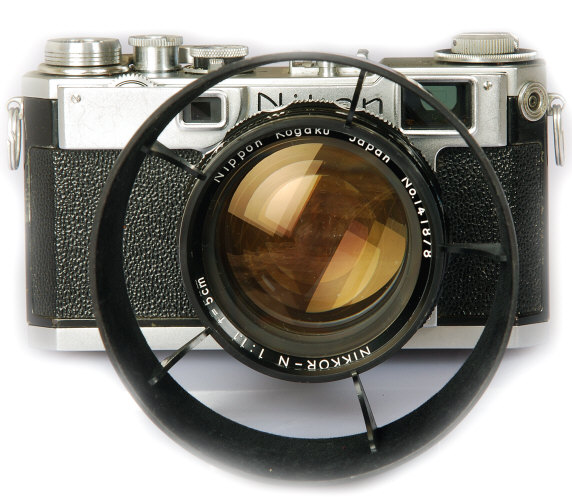 Black Dial Nikon S2 with external mount 50/1.1 Nikkor and shade
The S2 was introduced in 1955, a great advance over the Nikon S. Even so, the S2 was woefully behind the laden featured Leica M3 introduced two years earlier. The earlier S2's are the "Chrome Dial S2's," with a chrome shutter speed dial. Later S2's are "Black Dial S2's" with a black shutter speed dial. Black S2's were available on special order, only to professional photogs with press credentials.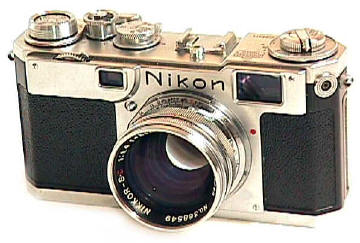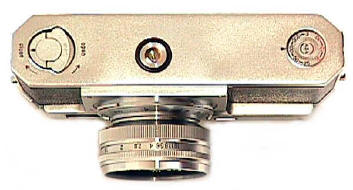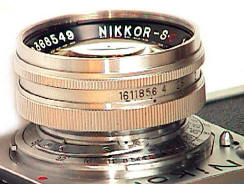 Compared to the S, the S2 featured:
Much larger, easier to see Life-size 1:1 Viewfinder with a larger entrance and exit pupils. It also has non parallax corrected 50 brightline in the finder -- a first for Nikon.

Lever Advance rather than knob advance

Lever rewind rather than knob rewind

A smaller, lighter body, weighting 25 oz compared to 32 oz for the S.

A new top speed of 1/1000, rather than the 1/500th on the S.

Standard PC terminal rather than dual prong type.
Shutter ball bearings.
Improved flare baffling within film chamber.
The film gate was now part of the body casting rather than an add on part, improving body strength and improving tolerances.
A hot shoe for Nikon flash (bulb) guns.
Stronger tripod mount built into the body casting rather than the bottom plate,
A single bottom opening key, rather than twin keys on the S. This makes film loading and unloading much faster. The S2 back will actually fit on the later SP, S3, S4, though the reverse is not true.
Shared features with the S are a removable back for easy loading, high/low shutter speed dial, manually set film counter, and the same lens mount.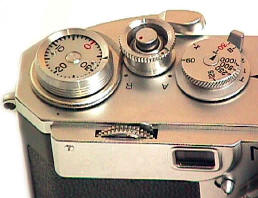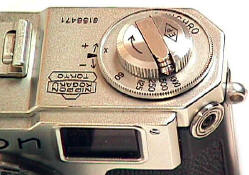 Notice the "X" markings on the shutter speed dial and the Synchro dial around the rewind lever. To use electronic flash, BOTH should be set to "X." The other markings are for flash bulb settings, not something we are likely to use today.

Like earlier Nikons, the S2 used a shutter speed dial which rotated during exposure. Remember to set shutter speeds with the shutter advanced. The top dial is for speeds between 1/60th to 1/1000th, plus B and X. To use the slow speeds, set the top speed dial to 30-1, then select your speed on the lower dial.

While this older shutter design has the disadvantage of incorrect shutter speeds should clumsy fingers touch the shutter dial during exposure, it has the advantage of making double exposures VERY easy. Just turn the shutter speed dial backward until it catches, and take your next shot!
The 50/1.4, 50/2, 50/3.5 (collapsible and Micro) and the first version 50/1.1 lenses do not have a focusing helical, instead using a focusing helical built into the Nikon body. This made for more compact lenses, but increased the complexity of the body design. The lens is removed by depressing the latch. This is the standard chrome 50/1.4. The chrome 50/1.4 can be differentiated from the rare aluminum 50/1.4 by its brighter finish and heavier weight, but not by its design.
---
Later S2's had black dials with white lettering on the shutter speed dial, film counter, flash sync dial, and depth of field scale on the focusing helical. Amazingly enough, such cameras are referred to as "Black Dial" S2's. Black Dial S2's generally left the factory with black normal lenses, while Chrome Dial S2's left the factory with chrome lenses. Many collectors consider the Black Dial S2 one of the prettiest and most popular Nikon Rangefinders. Some sources say 11, 715 BD's were produced, starting with serial # 6180000, though I have to admit I did not count them.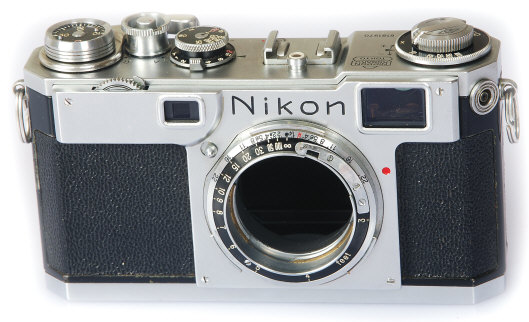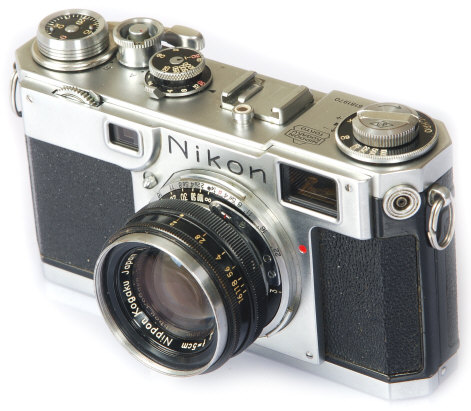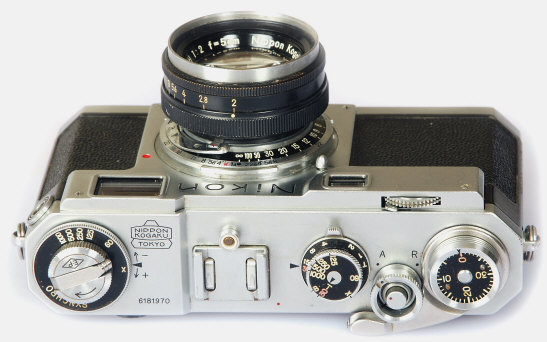 ---
The S2 has a unique lens associated with it, the Aluminum 50/1.4 which was supplied for only a very short time with the chrome dial S2. The Aluminum 50/1.4 is one of the rarest of all Nikon lenses, with an estimated production of only 300!

The Aluminum 50/1.4 can easily be mistaken for chrome if you don't look closely. The surface sheen is noticeably duller, with a different texture, than the earlier chrome lenses. It was apparently a Nikon experiment, produced between the earlier chrome lenses and the later black/chrome lenses.
---
The S2 went on to become the most numerous Nikon Rangefinder, with over 56,000 produced.

The S2 was replaced in 1957 by the legendary Nikon SP -- Nikon had finally caught up with Leica. Today many consider the S2 as the best choice for a "Nikon RF shooter" since it has an excellent finder, fast operation, and a comparatively moderate price compared with the SP/S3/S4.
---
Voigtlander Nikon/Contax Rangefinder Related Products

Voigtlander Bessa R2S R2C Rangefinders in Classic Nikon or Contax Rangefinder Mounts

Voigtlander Bessa R2S 50/3.5 Heliar S NHS Commemorative in Classic Nikon Rangefinder Mount

Voigtlander SL 12/5.6 and 15/4.5 Aspherical widest EVER for NRF

Voigtlander Nikon Rangefinder SC Mount Lens Intro 21/4, 25/4, 35/2.5 intro

Voigtlander Nikon Rangefinder SC Lenses: SC 21/4, SC 25/4, SC 28/3.5, SC 35/2.5, SC 35/1.2 Prototype, S 50/1.5, S 50/2.5, S 50/3.5, S 85/3.5

Voigtlander VC Meter II small compact silicon meter with LED readout for Nikon Rangefinders

---

CameraQuest Home Shopping Cart Price List Camera Articles I Buy / Wants Repairs Books Adapters
Revised: September 12, 2017 . Copyright © 1998-2009 Stephen Gandy. All rights reserved. This means you may NOT copy and re-use the text or the pictures in ANY other internet or printed publication of ANY kind. Information in this document is subject to change without notice. Other products and companies referred to herein are trademarks or registered trademarks of their respective companies or mark holders.