CameraQuest Home Shopping Cart Price List Camera Articles I Buy / Wants Repairs Books Adapters
Nikon 35mm f/1.8 All Black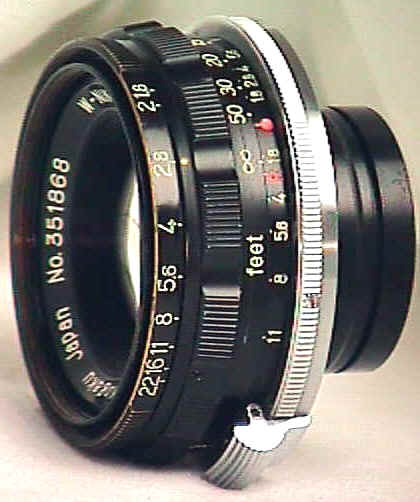 This is one of the rarest of all Nikon lenses with a production of only about 100 lenses.

In other words, it is rarer than than Nikon stereo lens, almost twice as rare as a Nikon S3M, seven times rarer than a Nikon One, fifteen times rarer than a Nikon rangefinder motordrive,

thirty times rarer than a 50/1.1, fifty times rarer than a Black Nikon Rangefinder!

The all black 35mm f/1.8 was introduced in 1956 at serial number 351801. It was very soon replaced by a chrome aperture ring with black lettering.

Every all black 35mm f/1.8 I have seen has had noticeable wear on the all black aperture ring. Perhaps this wear problem was why Nikon replaced the black ring with chrome.
---
Voigtlander Nikon/Contax Rangefinder Related Products

Voigtlander Bessa R2S R2C Rangefinders in Classic Nikon or Contax Rangefinder Mounts

Voigtlander Bessa R2S 50/3.5 Heliar S NHS Commemorative in Classic Nikon Rangefinder Mount

Voigtlander SL 12/5.6 and 15/4.5 Aspherical widest EVER for NRF

Voigtlander Nikon Rangefinder SC Mount Lens Intro 21/4, 25/4, 35mm f/2.5 intro

Voigtlander Nikon Rangefinder SC Lenses: SC 21/4, SC 25/4, SC 28/3.5, SC 35mm f/2.5, SC 35/1.2 Prototype, S 50/1.5, S 50/2.5, S 50/3.5, S 85/3.5

Voigtlander VC Meter II small compact silicon meter with LED readout for Nikon Rangefinders

---

CameraQuest Home Shopping Cart Price List Camera Articles I Buy / Wants Repairs Books Adapters
Revised: September 12, 2017 . Copyright © 1998-2002 Stephen Gandy. All rights reserved. This means you may NOT copy and re-use the text or the pictures in ANY other internet or printed publication of ANY kind. Information in this document is subject to change without notice. Other products and companies referred to herein are trademarks or registered trademarks of their respective companies or mark holders.