Home Camera Articles FOR SALE Orders I Buy / Wants Repairs Books Adapters

Nikon SP Motor Cordless Battery Packs and Clint Eastwood's movie "Bridges of Madison County"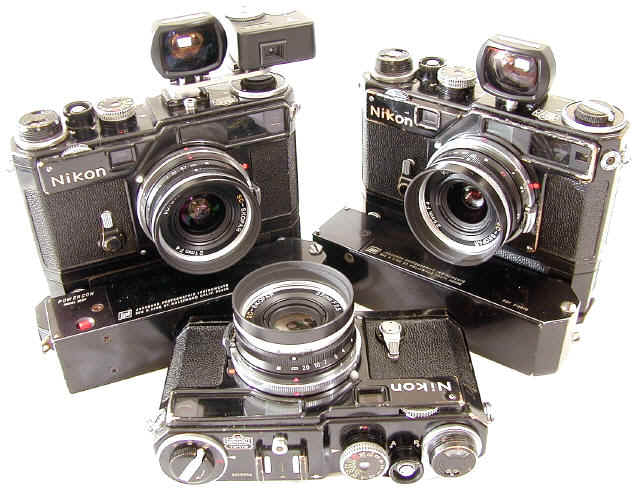 Mounted Left to Right: the new 21/4, 35/2.5, and 25/4 Voigtlander SC Skopars. The SP on the left with the 21 and VC meter was used in the 1995 Clint Eastwood movie "Bridges of Madison County." Before going to Madison County, it was previously owned by Hollywood photographer David Sutton, a noted photographer, writer, and still photog on many John Wayne films.
The two SP motor cordless battery packs are Jacobson Powercons, which represent a whopping 1/6 of the total special order SP Motor Powercon production. Powercons were made in the heart of Hollywood on fabled Vine Street by famous photographic inventor Irving Jacobson. Five years before Nikon brought out a cordless Nikon F battery pack in 1968, the Jacobson Powercon was the only cordless pack available to Nikon F photogs. Several years later the Remopak was also produced under license from Jacobson. The $120 Powercon 35E was on the Jacobson Photographic Instruments price list, but was strictly a special order item built only as they were ordered. 120 1963 dollars add up to almost $700 in 2001 dollars.
Irving Jacobson's reputation was 1st made by inventing the first reliable and widely used photography press camera flash sync -- the Jacobson synchronizer for Speed Graphics in 1936. Jacobson was also the inventive photographic genius behind many specially made cameras for legendary Life Magazine photographer JR Eyrman. Eyrman was known for his unusual and hard to duplicate pictures. Many of Eyrman's unusual shots were done with special cameras or accessories made to Eyrman's specs by Jacobson.
---
Home Camera Articles FOR SALE Orders I Buy / Wants Repairs Books Adapters
Revised: November 26, 2003 . Copyright © 1998-2002 Stephen Gandy. All rights reserved. This means you may NOT copy and re-use the text or the pictures in ANY other internet or printed publication of ANY kind. Information in this document is subject to change without notice. Other products and companies referred to herein are trademarks or registered trademarks of their respective companies or mark holders.