CameraQuest Home Shopping Cart Price List Camera Articles I Buy / Wants Repairs Books Adapters
Long Nikon Rangefinder Lenses to Bronica Adapter
Nikon's first 35mm cameras were rangefinders, introduced in 1946. The Nikon SLR did not come along until the Nikon F of 1959. The long rangefinder lenses (longer than 135) were used with the Nikon Reflex housing attached to the rangefinder body. It was a device similar to the Leica Visoflex and converted the rangefinder into a primitive SLR to use the long Nikkors: the 180/2.5, 250/4, 350/4.5, 500/5 and 1000/6.3.

ANYWAY, these long Nikkors had a comparatively short mount to allow for all the space of the Reflex Housing. Starting in 1958 Nikon produced the lenses for the Bronica, Japan's first 2 1/4 system SLR. Someone had the bright idea to make an adapter to allow the long Nikkors to be used on the early Bronica. Son of a Gun, eh Son of Nippon Kogaku, it worked! Oddly enough, the longer than 135 Rangefinder Nikkors covered 6x6!! Of course they also had the idea of making the same lenses in original Bronica mounts! Holy Sweden, an instant pro system!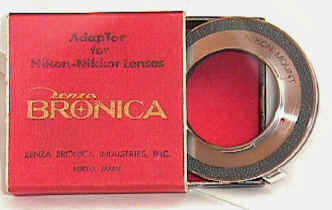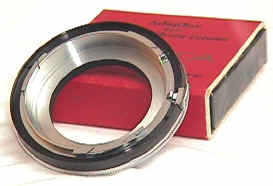 With the rare adapter pictured above, you can mount the Reflex Housing Nikkors on your Bronica. But don't rush out looking for the adapter, thinking you will get some cheap Bronica lenses. The adapter is very hard to find, and the Nikkors in Rangefinder mount are MUCH more expensive than the same in Bronica mount. oh well.
Alas, there is another catch as well. According to Bronica literature, these little beauties only work properly on the earliest Bronica's: the Z, D and S.
---
Voigtlander Nikon/Contax Rangefinder Related Products

Voigtlander Bessa R2S R2C Rangefinders in Classic Nikon or Contax Rangefinder Mounts

Voigtlander Bessa R2S 50/3.5 Heliar S NHS Commemorative in Classic Nikon Rangefinder Mount

Voigtlander SL 12/5.6 and 15/4.5 Aspherical widest EVER for NRF

Voigtlander Nikon Rangefinder SC Mount Lens Intro 21/4, 25/4, 35/2.5 intro

Voigtlander Nikon Rangefinder SC Lenses: SC 21/4, SC 25/4, SC 28/3.5, SC 35/2.5, SC 35/1.2 Prototype, S 50/1.5, S 50/2.5, S 50/3.5, S 85/3.5

Voigtlander VC Meter II small compact silicon meter with LED readout for Nikon Rangefinders

---

CameraQuest Home Shopping Cart Price List Camera Articles I Buy / Wants Repairs Books Adapters
Revised: September 12, 2017 . Copyright © 1998-2002 Stephen Gandy. All rights reserved. This means you may NOT copy and re-use the text or the pictures in ANY other internet or printed publication of ANY kind. Information in this document is subject to change without notice. Other products and companies referred to herein are trademarks or registered trademarks of their respective companies or mark holders.