Home Camera Articles FOR SALE Orders I Buy / Wants Repairs Books Adapters

Can't find a Nikon M? Check the trash! One person's trash is another's treasure!
Once upon a time, in a place far far away, there was a man named Tim. Tim's wife collected cameras, Kodaks and Brownies to be exact. Tim added to her collection whenever he could, which was fairly often. Tim was a sanitation engineer, which means he drove a trash truck. One fine day Tim found a cheap looking black plastic camera bag in the trash dumpster. Without bothering to open it since he was on the job, he just threw it in cab, to deliver to his wife that evening. That night, Tim and his wife were surprised to find a camera he had never seen before, a funny looking old Nikon.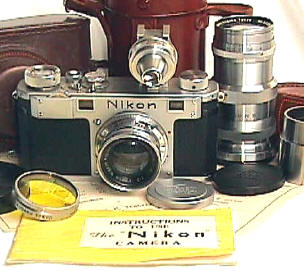 Tim's find included:
An unsynced Nikon M with collapsible 50/2 Nikkor, complete with cap and case

M Variframe viewfinder, complete with case

135/4 Nikkor, complete with caps, shade, case

Push on Yellow filter with case

Inspection certificates for the camera and lens

Nikon One Instruction booklet

Oh yes, all were in Mint- condition. Geez, I guess that is one way to collect Nikon. IF it's not mint, throw it out!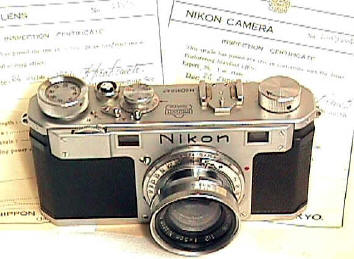 No, I did not make this up. By the way, if anyone out there likes the camera bag, just check the trash.
---
Revised: November 26, 2003 . Copyright © 1998-2002 Stephen Gandy. All rights reserved. This means you may NOT copy and re-use the text or the pictures in ANY other internet or printed publication of ANY kind. Information in this document is subject to change without notice. Other products and companies referred to herein are trademarks or registered trademarks of their respective companies or mark holders.