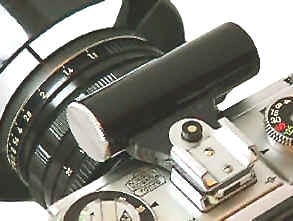 Towards the end of the 50's, Nikon brought out a unique, very useful accessory which has not yet been duplicated.

The Nikon SP Brightline Illuminator consists basically of a grain size bulb, AA battery and battery holder, and mounting bracket for the SP's accessory shoe. Once turned on, its little light illuminates the SP's Brightline framelines in dim light. It works great and makes photographing in lower light levels much easier. The Illuminator works only fits the SP.

Note switch, accessory shoe, the special case that the illuminator is sitting on, and the accessory shoe built into the top mount of the illuminator for a flash. The Illuminator is made of shiny black Bakelite.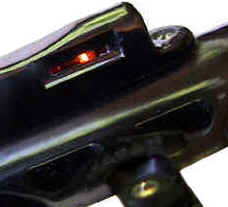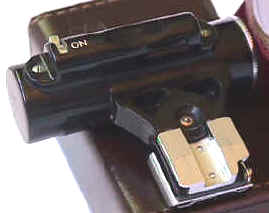 Here is a close up shot of the bulb turned on. On the camera, it fits directly in front of the frame illumination window.

The Illuminator fits into the camera's accessory shoe from the front. The shiny black Bakelite battery case hangs in front of the camera, looking kind of like a little scuba tank from outer space. Turn the switch on the front, and it illuminates your camera's brightlines even in total darkness. A great idea.
---
Voigtlander Nikon/Contax
Rangefinder Related Products
Voigtlander Bessa R2S R2C Rangefinders in Classic Nikon or Contax Rangefinder Mounts
Voigtlander Bessa R2S 50/3.5 Heliar S NHS Commemorative in Classic Nikon Rangefinder Mount
Voigtlander SL 12/5.6 and 15/4.5 Aspherical widest EVER for NRF
Voigtlander Nikon Rangefinder SC Mount Lens Intro 21/4, 25/4, 35/2.5 intro
Voigtlander Nikon Rangefinder SC Lenses: SC 21/4, SC 25/4, SC 28/3.5, SC 35/2.5, SC 35/1.2 Prototype, S 50/1.5, S 50/2.5, S 50/3.5, S 85/3.5
Voigtlander VC Meter II small compact silicon meter with LED readout for Nikon Rangefinders
---
CameraQuest Home Shopping Cart Price List Camera Articles I Buy / Wants Repairs Books Adapters
Revised: September 12, 2017 . Copyright © 1998-2002 Stephen Gandy. All rights reserved. This means you may NOT copy and re-use the text or the pictures in ANY other internet or printed publication of ANY kind. Information in this document is subject to change without notice. Other products and companies referred to herein are trademarks or registered trademarks of their respective companies or mark holders.