CameraQuest Home Shopping Cart Price List Camera Articles I Buy / Wants Repairs Books Adapters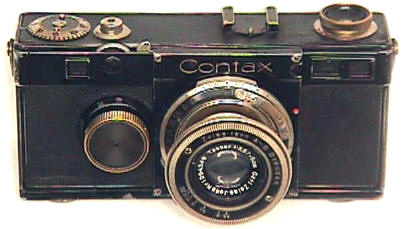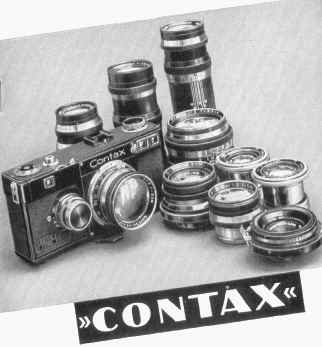 Zeiss Contax I Rangefinder 1932-1936
"The Contax is the modern universal roll film miniature camera of unsurpassed efficiency and all-round versatility." Zeiss Sales Brochure
"The Contax represents an entirely new design of camera. The very simple construction is quickly understood whereupon the numerous technical advantages will be found to allow of obtaining unexcelled results under all conditions." 1934 Contax Brochure
Zeiss was no doubt irritated by that upstart Leica's runaway sales success, so the largest photo conglomerate in the world set out confidently and determined to produce the absolute best 35mm camera in the world.

Zeiss failed admirably in their first attempt with the Contax I.

---

The original 1932 Contax I was so interesting, held so much promise, and had so many flaws. To this day it remains one of the all time classic 35's. In 1926 Leica unexpectedly invented the luxury 35mm market with their astounding sales success, the original Leica A. If giant Zeiss had believed there was an y potential in the 35mm format, they certainly would have introduced their 35 long before Leica.

Alas, the Contax I had its share of troubles. The biggest Contax I problem is a notoriously unreliable shutter. As fascinating as it is, you can not count on a Contax I as a reliable shooter. Even worse than that, few repairmen are willing to even try to fix them. Real world, most of the Contax I's you encounter will likely have an inoperable shutter. Nevertheless, the Contax I established a pattern for the modern camera shutter with its vertically traveling metal shutter curtains.

In its short four year life it went through at least six major changes due to needed improvements in features and reliability. Many of the first models were recalled due to various problems -- either to be replaced or remanufactured. The first model "pimple" Contax is a good deal rarer than most camera guides give credit for. Apparently made for only a few months, today it is exceedingly rare. You can recognize it by the raised "pimple" directly in front of the focusing wheel. The next model had two "pimples," the pimples were then eliminated. All Contax I's are easy to recognize as they were finished in black enamel only. The later Contax II, III, IIa, and IIIa were made in chrome only.

Contax I (a) most have "pimple" in front of focusing wheel, no slow speeds below 1/25th, has U or V in serial number.
Contax I (b) no "pimple," front plate extends from focusing wheel to VF window in one piece, no slow speeds
Contax I (c) slow speeds added, tripod mount support added
Contax I (d) button to unlock infinity lock added,
Contax I (e) viewfinder moved to OUTSIDE of RF window
Contax I (f) four screws in accessory shoe

Rather than a top mounted film advance and shutter speed dial like Leica, the Contax I combined them both on the front of the camera!! Rotating the advance knob clockwise advanced and cocked the shutter. Lifting it outward you could rotate the dial and select your shutter speeds...a range of 1/25th to 1/1000 plus B. That's right. No slow speeds on early Contax I's, that was added later.

The "pimple" in front of the focusing wheel is the easy identifier for the first Contax I (a). The 50mm focusing wheel is ideally located for your right index finger.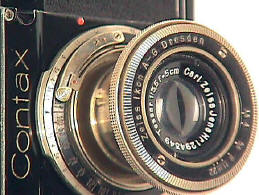 Mounted is the early 50/3.5 black face collapsible Zeiss Tessar. Later lenses have a chrome face. Notice the chrome latch which must be depressed to remove the inner bayoneted 50mm lenses. Contax I lenses are nickel with black paint trim. Later Contax II lenses are generally all chrome.

Rather than following Leica with a screw mount interchangeable lens system, Zeiss used a curious double bayonet system. The helical for the 50's was built INTO the camera body. The 50's used the INSIDE bayonet mount. The photo shows the latch locking down the 50/3.5. Wide angles and longer than 50mm lenses use the three prong OUTSIDE bayonet mount with their own built in helical focusing system. One of the outside bayonet prongs is shown just below the "Contax" nameplate. As bayonet mounts go, this one is rather time consuming. You have to set the camera body helical to infinity, matching the lenses, before mounting wides or Teles. Any real advantage the Contax bayonet has over the Leica screw mount method is rather dubious in my opinion.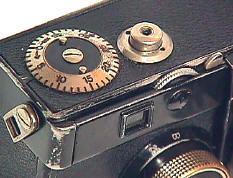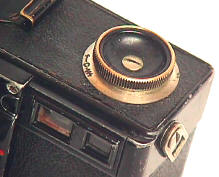 The first version "pimple" Contax I was apparently only made for a few months, today it is exceedingly rare. The strap lugs rotated, a nice touch. The frame counter beside the threaded cable shutter release had to be manually reset. While the advance knob was large and easy to grasp, the rewind knob was very thin and not that comfortable to use. Interchangeable 50, 85, 135, 180 masks slid from the front plate and in front of the viewfinder to give multiple "mask lines."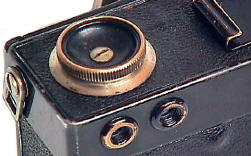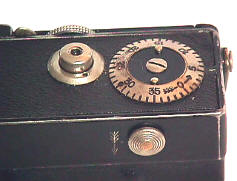 Separate Rangefinder and Viewfinder windows. The film counter was large and easy to read.
When was your Contax I made?? According to the excellent "benchmarks" book by Foto Saga in France, ISBN 2-906840-06-8, the first letter before the serial number denotes a block of 99,999 serial numbers -- not all of which were always issued: T 1931/2, U 1932/3, V 1933/4, X 1934, Y 1934/5, Z 1935/6, A 1936. Keep in mind the code was also used for other Zeiss cameras, so these codes do not indicate total Contax production. An extra letter, before or after the serial block letter, indicates the camera was sent back to the camera for repair. Contax I's WITHOUT a 2nd repair letter code are very hard to find! The most common repair letter I've found is A, before the original serial block number. Even new, the Contax I was a failure as far as reliability.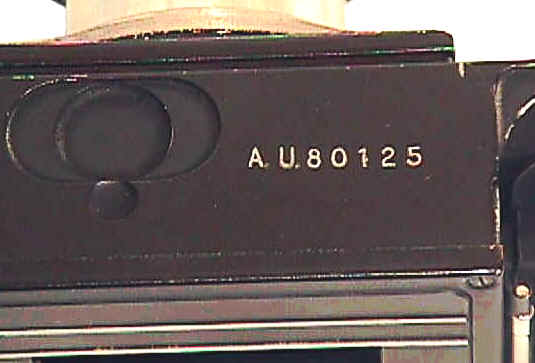 Contax I serial numbers were on the bottom of the shutter cage and on the inside of the removable back -- a double tradition repeated years later by Nikon. Unfortunately Zeiss numbers were not consecutive, but preceded by one or two letters. Even today, Zeiss experts seem unsure how many Contax of any type were made. The "U" serial block confirms the camera was made in 1932.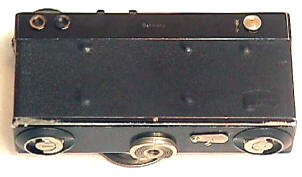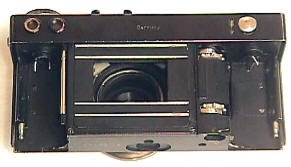 In contrast to the Leica's rounded bottom loading body, Contax has a square body with an easy loading removable back. The Contax could be loaded with two film cassettes, which eliminated the need to rewind the film. The bottom of each cassette mated to the film back locks -- so that locking the back opened the cassettes, and opening the back closed the cassettes!

Unusual Contax I 1777/8 case: made for the rarer (translation expensive when new) black face 50/1.5 and 50/2 Sonnars. See the hump in the top? I'm fairly sure that was for a folding Albada finder. Most cases I've seen were for the collapsible 50/3.5 and had no provision for the folding finder.
---
Contax I Lenses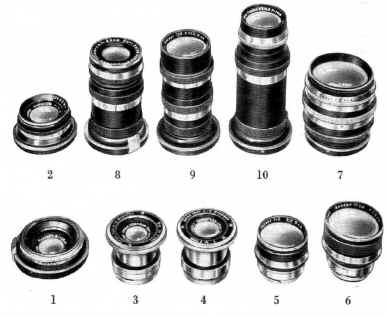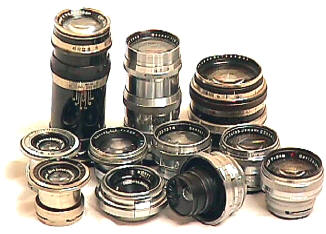 . #1 28/8 Zeiss Tessar, uncoupled. #2 40/2 Biotar #3 50/3.5 Collapsible Tessar #4 50/2.8 Collapsible Tessar #5 50/2 Sonnar #6 50/1.5 Sonnar #7 85/2 Sonnar #8 85/4 Triotar #9 135/4 Sonnar #10 180/6.3 Tele-Tessar
Some black Contax I and chrome Contax II lenses: Back Row: 180/6.3 Tele-Tessar, 135/4 Sonnar, 85/2 Sonnar Middle Row: 50/3.5 Collapsible Tessar, 50/2 Collapsible Sonnar, 50/1.5 Uncoated Sonnar, 50/1.5 Wartime Coated Sonnar Front Row: 50/3.5 Collapsible Tessar, 28/8 Tessar, 35/2.8 Biogon, 50/1.5 Wartime Black Rim Sonnar

It is fascinating to realize the Zeiss Contax I was the first 35mm camera with "super speed" lenses, the 50/1.5 and 85/2 Sonnars. While today's Leicas are famous for low light photography, the Zeiss lover has to have some satisfaction knowing With its super speed lenses, Contax invented 35mm low light photography. That funny looking Barnack guy might have gotten the press, but Zeiss did the heavy lifting for low light.

The Contax I lenses had black & nickel barrels. They were replaced with all chrome lens barrels once the Contax II was introduced in 1936 -- so you can quickly recognize a Contax I lens by its black barrel trim. In 1932 the 50/1.5 Sonnar was 35mm photography's fastest production lens. At that time Leica's fastest 50 was the 50/2.5 Hektor, followed in 1933 by the still slow in comparison and not nearly as sharp 50/2 Summar. Zeiss was the 35mm pre-war Speed King.

The Contax I's strongest point was its great Zeiss lenses. Contax offered a wide range (for its time) of 28mm to 180mm. Particular interesting were the 50/1.5 Sonnar, 85/2 Sonnar, the world's first super speed wide angle, the 40/2 Biotar, and the long rangefinder coupled 180/6.3 Tele-Tessar. Notice all Contax I lenses had nickel and black enamel barrels. The later lenses 135 and shorter for the Contax II, III, IIa and IIIa were all chrome. Most shooters of the time believed the Zeiss lenses sharper than Leica. All of course, were uncoated. ANY black/nickel Contax 1 lens is hard to find today. The 50/1.5 and 85/2 are sought after, but the black 40/2 is the rarest.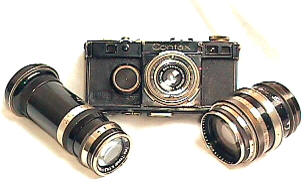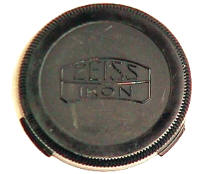 Contax I with 180/6.3 Tele-Tessar and 85/2 Sonnar. Above is the hard to find Bakelite Contax I rear cap.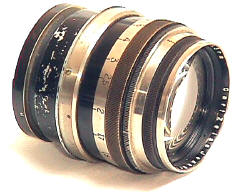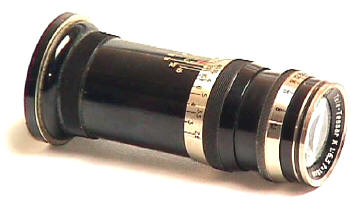 The 85/2 Sonnar and 180/6.3 Tele-Tessar were important Contax lenses. The 85/2 set new standards for fast portrait telephotos. It was continued after the war in updated form. The 180 was the longest production rangefinder coupled lens for Contax or Leica. It was not continued after the war.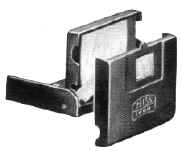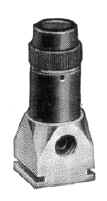 Folding Albada finders were available for the 50, 50 & 85, and 50 & 135. Besides being compact, they also offered life size viewing.
The "Contax Vertical Telescopic View-Finder" offered a reversed right angle vision, useful for low angle shots.
---
Despite its great fast lenses, round one of the Great Leica-Contax debate went to Leica due to the Contax I's unreliable shutter. With the greatly improved Contax II and III of 1936, the choice was no longer so clear.

I can't escape the feeling that the Leica II was designed by one man (Oskar Barnack), while the Contax I was designed by a team of specialists. Except for its weak film loading, the Leica was a very well integrated system. The Contax I tried to do a lot of things, and succeeded at many of them, but lacked Leica's feeling of system integration.

Funny thing though, with my fascination for gadgets, I actually like the Contax I more, though the Leica II is obviously the better overall picture taker.
Be sure to see the separate page Contax RF on Contax I Accessories
---
Voigtlander Nikon/Contax Rangefinder Related Products

Voigtlander Bessa R2S R2C Rangefinders in Classic Nikon or Contax Rangefinder Mounts

Voigtlander Bessa R2S 50mm f/3.5 Heliar S NHS Commemorative in Classic Nikon Rangefinder Mount

Voigtlander SL 12/5.6 and 15/4.5 Aspherical widest EVER for NRF

Voigtlander Nikon Rangefinder SC Mount Lens Intro 21/4, 25/4, 35f/2.5 intro

Voigtlander Nikon Rangefinder SC Lenses: SC 21/4, SC 25/4, SC 28/3.5, SC 35f/2.5, SC 35/1.2 Prototype, S 50mm f/1.5, S 50f/2.5, S 50mm f/3.5, S 85mm/3.5

Voigtlander VC Meter II small compact silicon meter with LED readout for Nikon Rangefinders

---

CameraQuest Home Shopping Cart Price List Camera Articles I Buy / Wants Repairs Books Adapters
Revised: September 13, 2017 . Copyright © 1998-2014 Stephen Gandy. All rights reserved. This means you may NOT copy and re-use the text or the pictures in ANY other internet or printed publication of ANY kind. Information in this document is subject to change without notice. Other products and companies referred to herein are trademarks or registered trademarks of their respective companies or mark holders.