CameraQuest Home Shopping Cart Price List Camera Articles I Buy / Wants Repairs Books Adapters
Russian No Name Kiev 4A
Protax 4A proclaimed "The World's finest 35mm Rangefinder Camera"
For those endlessly losing sleep determining whether the Leica M3, M2, M4, or MP is the World's Finest 35mm Rangefinder, go back to sleep. This question was decided long ago. In 1983 the good folks at Cambridge Camera in New York City gave that championship title to this version of the Russian No Name Kiev 4A. Only $129.95 - while supplies lasted.

For the lost newbies, a Kiev 4A is a Russian made 35mm camera inspired by Zeiss Contax II -- whose tooling dies were hauled off to Russia as a war prize after WWII. Yep, Kiev's take classic Zeiss Contax lenses, and likewise the Ruskie Kiev lenses will fit classic Zeiss Contax. Not really known as high precision cameras and lenses, this Ruskie still offered a lot for the money: 1983 Prices: New bodies $129, 35/2.8 $89, 50/2 $49, and 85/2 lenses at $98. Apparently there are at least 3 variations of the "No Name Kiev," i.e. Kiev camera without name plate. After WWII one variation was made using mostly original Germany parts. Another version appeared in about 1963. This version appeared in NYC in 1983 - notice the self timer is not all metal as the 1963 version.

Only the last 1983 version, however, proudly shouldered the title of "The World's finest 35mm Rangefinder Camera."

I'm sure this ad was written from the word go as Over the Top Entertainment
-- much like the Fiats going over the Italian cliffs to motor to the US in today's TV ads.

My congrats to Cambridge and the copywriter for providing great entertainment 30 years later!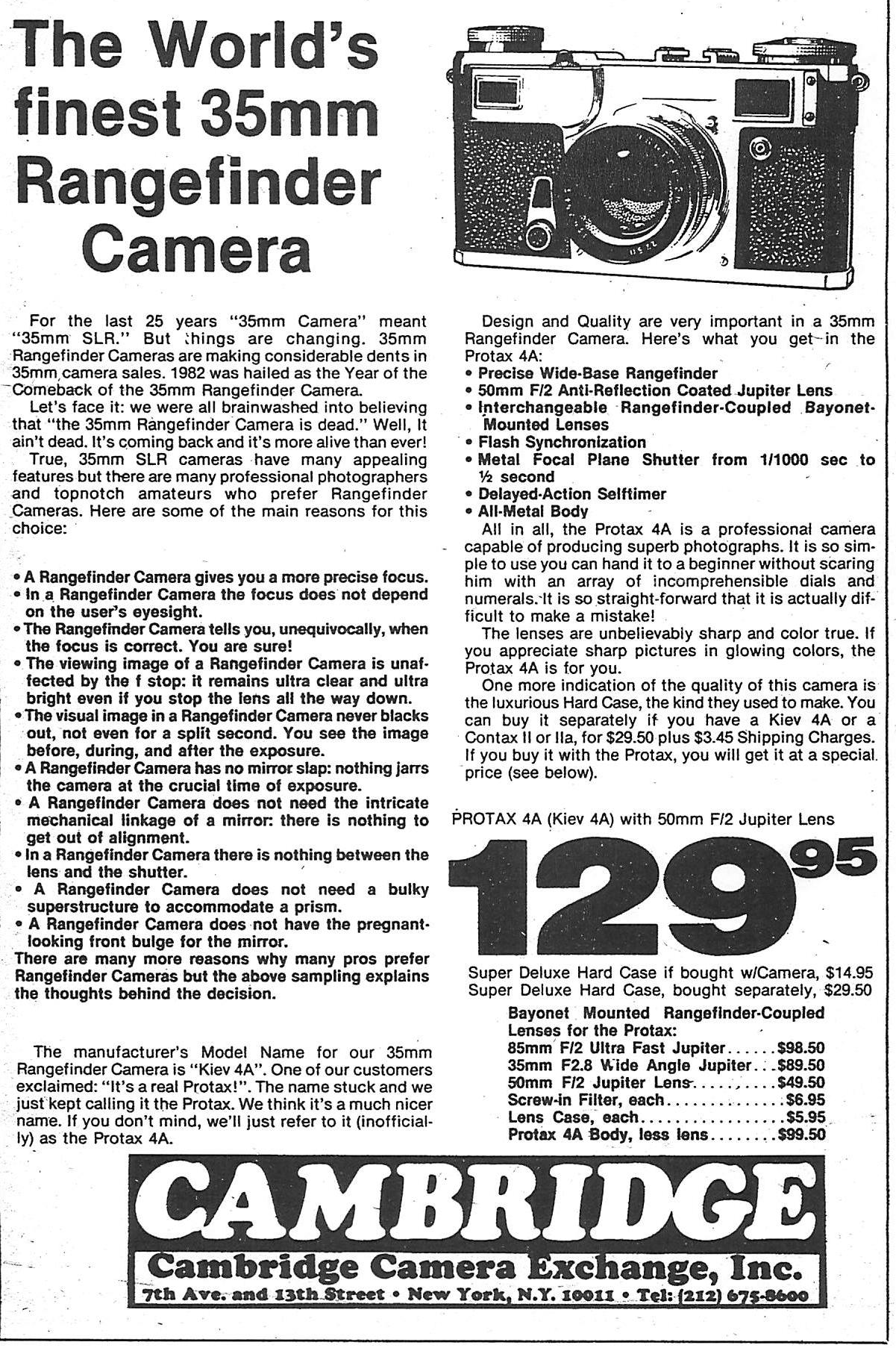 Ad copyright Cambridge Camera, all Rights Reserved
---
Voigtlander Nikon/Contax Rangefinder Related Products

Voigtlander Bessa R2S R2C Rangefinders in Classic Nikon or Contax Rangefinder Mounts

Voigtlander Bessa R2S 50mm f/3.5 Heliar S NHS Commemorative in Classic Nikon Rangefinder Mount

Voigtlander SL 12/5.6 and 15/4.5 Aspherical widest EVER for NRF

Voigtlander Nikon Rangefinder SC Mount Lens Intro 21/4, 25/4, 35f/2.5 intro

Voigtlander Nikon Rangefinder SC Lenses: SC 21/4, SC 25/4, SC 28/3.5, SC 35f/2.5, SC 35/1.2 Prototype, S 50mm f/1.5, S 50f/2.5, S 50mm f/3.5, S 85mm/3.5

Voigtlander VC Meter II small compact silicon meter with LED readout for Nikon Rangefinders

---

CameraQuest Home Shopping Cart Price List Camera Articles I Buy / Wants Repairs Books Adapters
Revised: September 13, 2017 . Copyright © 2013 Stephen Gandy. All rights reserved. This means you may NOT copy and re-use the text or the pictures in ANY other internet or printed publication of ANY kind. Information in this document is subject to change without notice. Other products and companies referred to herein are trademarks or registered trademarks of their respective companies or mark holders.