CameraQuest Home Shopping Cart Price List Camera Articles I Buy / Wants Repairs Books Adapters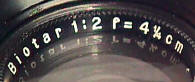 Zeiss 4 1/4cm f/2 Biotar in Contax Mount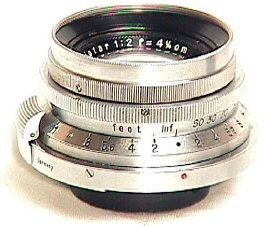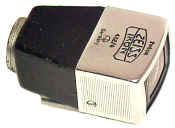 This folks, is the stuff that Zeiss Collector's dreams are made of: the f/2 Zeiss Biotar marked "4 1/4" cm rather than 40mm f/2 or 42.5mm f/2. Strangely enough, they are all the SAME focal length. Some claim Zeiss admitted that the earlier lenses marked 40mm were actually in error....that they ALL were actually 42.5..but this is disputed. The important thing, however, is that it said ONLY TEN examples of the "4 1/4" marked lenses are known. In Zeiss, this is practically as rare as it gets.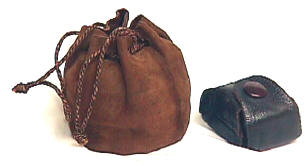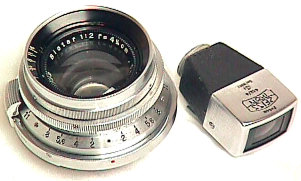 This is a 6 element design, whose focal length was chosen to correspond to the diagonal of the 35mm film format. Construction is very solid brass and chrome, weighing 9 oz. F/stops range from f/2 to f/16. This example was for export with a distance scale marked in feet. It takes an external 42mm push on cap and internal 40.5mm filters. Depth of the lens, from tip of the filter ring to back of the element, is 40mm at infinity. Measured from the filter ring to base of mount is 29mm at infinity. Made in 1936, it's uncoated.

The 4cm/2 Biotar in Contax mount was originally introduced in 1933, in a black paint and nickel mount for the Contax I. A 4cm finder was also made, not a brightline. A Robot mount 4cm/2 Biotar was also made, but with a different optical formula due to the smaller film format. All were pre-war, and apparently all left the factory uncoated. Real world, any Contax mount 4cm/2 or 4.25cm/2 is rare these days, and a great prize to the dedicated Contax collector. The mystery is why Zeiss would change the lens marking from 4cm/2 to 4.25cm/2.

This f/2 Biotar was produced for the pre-war generation of Contax 35mm Rangefinders: the Contax I, II, III. In the 1930's, Contax was the world's ONLY 35mm camera system besides Leica. The general perception of the day saw Contax with sharper and faster lenses, but the Leica being easier and more comfortable to use.
---
Voigtlander Nikon/Contax Rangefinder Related Products

Voigtlander Bessa R2S R2C Rangefinders in Classic Nikon or Contax Rangefinder Mounts

Voigtlander Bessa R2S 50mm f/3.5 Heliar S NHS Commemorative in Classic Nikon Rangefinder Mount

Voigtlander SL 12/5.6 and 15/4.5 Aspherical widest EVER for NRF

Voigtlander Nikon Rangefinder SC Mount Lens Intro 21/4, 25/4, 35f/2.5 intro

Voigtlander Nikon Rangefinder SC Lenses: SC 21/4, SC 25/4, SC 28/3.5, SC 35f/2.5, SC 35/1.2 Prototype, S 50mm f/1.5, S 50f/2.5, S 50mm f/3.5, S 85mm/3.5

Voigtlander VC Meter II small compact silicon meter with LED readout for Nikon Rangefinders

---

CameraQuest Home Shopping Cart Price List Camera Articles I Buy / Wants Repairs Books Adapters
Revised: September 13, 2017 . Copyright © 1998-2002 Stephen Gandy. All rights reserved. This means you may NOT copy and re-use the text or the pictures in ANY other internet or printed publication of ANY kind. Information in this document is subject to change without notice. Other products and companies referred to herein are trademarks or registered trademarks of their respective companies or mark holders.