CameraQuest Home Shopping Cart Price List Camera Articles I Buy / Wants Repairs Books Adapters
250mm f/4 Manual Aperture Nikon Rangefinder Lens
Nikon's 1st "Super Telephoto"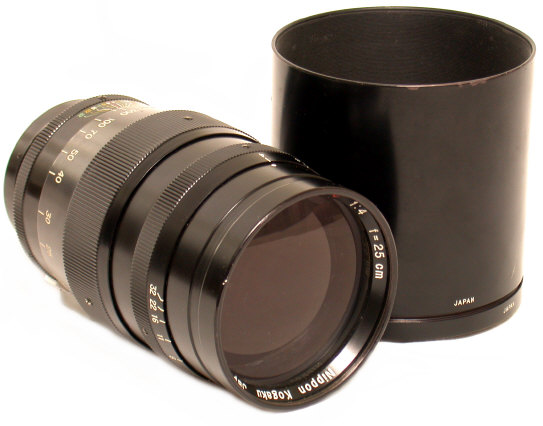 The 250mm f/4 Nikkor was introduced in 1951, to work with the original Nikon reflex mirror housing on the Nikon S rangefinder. It was the first longer than 135 lens by Nippon Kogaku for their new 35mm camera line. The earlier manual aperture version with a production of about 600 is much harder to find than the later preset aperture version introduced in 1956 with a production of about 1700.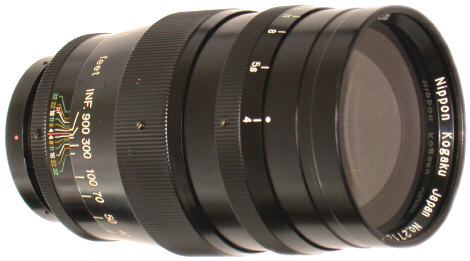 This lens # 271835 (most likely the 35th 250mm f/4 Nikkor) is an early 1st 250mm f/4 manual version NOT documented in any Nikon reference book I have been able to find. It has unusual features not found on the later and much more numerous and well known Type 2 250mm f/4 manual aperture lenses.

Weighing 49oz without hood, the Type 1 is 9 oz heavier than the Type 2 250mm f/4 manual Nikkor

The focusing ribs are evenly ribbed, without the more common fluting found on later 250mm f/4's

The lens hood is about 30% than the later lens hood, measuring 85mm long.

The lens hood is only marked "Japan," not "f=25cm 1:4 NIPPON KOGAKU JAPAN"

Estimated production of Type 1? Perhaps 50? If it has taken this long to be documented, production figures for the Type 1 250mm f/4 manual aperture Nikkor are obviously quite low. Number 271835 is the 3rd lowest serial 250mm f/4 number reported to Bob Rotoloni. Bob knew of this early variation, but had not yet photographed it. This page will be a future article in the quarterly Journal of the Nikon Historical Society.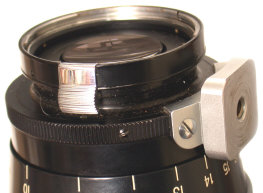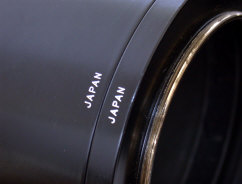 The tripod socket is fixed, not rotating. The 4th rear element is close to the rear of the lens, so handle carefully! The lens hood reverses for storage on the lens. While the lens hood separates to take Series 9 filters, the lens is also threaded for 68mm filters.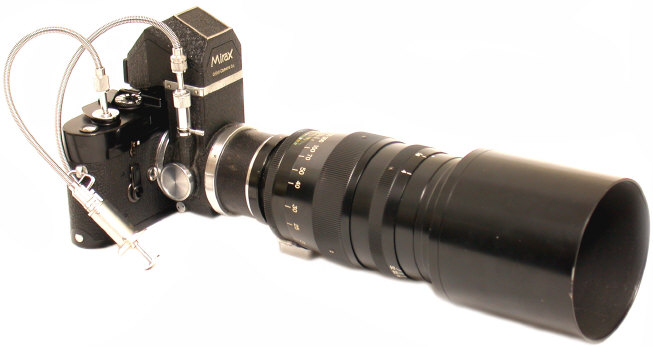 250mm f/4 Nikkor Type 1 manual aperture Reflex Housing Nikkor mounted on the rare Orion Mirax mirror housing with 90 degree prism and black paint Leica M4. The Mirax was produced by the Orion Camera Company, manufacturer of the Miranda Orion camera. Even the cable release is Orion, as well as the Nikon reflex lens adapter mounting the 250mm f/4 on the Orion Mirax Type A Reflex Housing.
---
Voigtlander Nikon/Contax Rangefinder Related Products

Voigtlander Bessa R2S R2C Rangefinders in Classic Nikon or Contax Rangefinder Mounts

Voigtlander Bessa R2S 50/3.5 Heliar S NHS Commemorative in Classic Nikon Rangefinder Mount

Voigtlander SL 12/5.6 and 15/4.5 Aspherical widest EVER for NRF

Voigtlander Nikon Rangefinder SC Mount Lens Intro 21/4, 25/4, 35/2.5 intro

Voigtlander Nikon Rangefinder SC Lenses: SC 21/4, SC 25/4, SC 28/3.5, SC 35/2.5, SC 35/1.2 Prototype, S 50/1.5, S 50/2.5, S 50/3.5, S 85/3.5

Voigtlander VC Meter II small compact silicon meter with LED readout for Nikon Rangefinders

---

CameraQuest Home Shopping Cart Price List Camera Articles I Buy / Wants Repairs Books Adapters
Revised: September 12, 2017 . Copyright © 2003 Stephen Gandy. All rights reserved. This means you may NOT copy and re-use the text or the pictures in ANY other internet or printed publication of ANY kind. Information in this document is subject to change without notice. Other products and companies referred to herein are trademarks or registered trademarks of their respective companies or mark holders.