CameraQuest Home Shopping Cart Price List Camera Articles I Buy / Wants Repairs Books Adapters
Nikon SP RangefinderVariations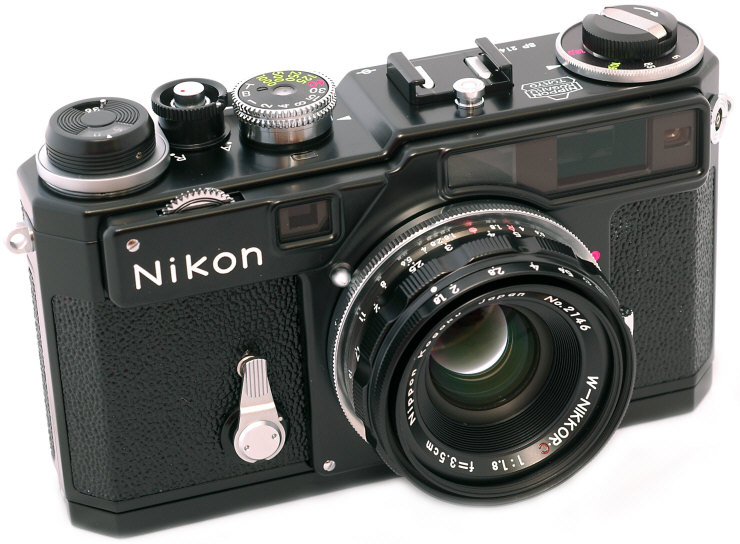 A relatively undocumented part of Nikon Rangefinder collecting is Nikon SP variations. Very early ones (probably the first 300) really are different. Of course the most famous SP variations are the switchover from cloth to titanium shutter curtains, and the optional Black finish rather than chrome.

Very Early Nikon SP (approx. the first 300)

Brighter Rangefinder Patch than later production
Machined rather than stamped advance lever
Thicker 35mm viewfinder frameline
Four patents listed on inside of back. Later cameras have either 5 or 6 patents listed
"Nippon Kogaku Tokyo" lightly engraved compared to later cameras
Slightly coarser knurling on shutter guard than later cameras
Advance lever cap has slightly lighter concentric rings
Strap lugs slightly different shape
ASA dial on bottom is RED from 10-50, WHITE from 50-400. Later cameras have RED 10-32 and WHITE 50-400.
PC connector collar slightly coarser rings

I am not sure how long each of these variations lasted, but I would guess that variations 1-3 above were the first to go.
---
Very Late SP's have Nikon F features:

Identical advance levers

Advance lever caps

Shutter release guards

Self timers

Shutter speed dials

Titanium shutter curtains

---

NEW Nikon Black SP!

To most dedicated Nikon collectors, there is no Nikon quite as desirable as the black Nikon SP. On January 14th 2005 Nikon announced a new limited production run of 2500 SP's mounting the 35/1.8 Nikkor.

This is a dream come true to many long time Nikon collectors. INFO
---
Voigtlander Nikon/Contax Rangefinder Related Products

Voigtlander Bessa R2S R2C Rangefinders in Classic Nikon or Contax Rangefinder Mounts

Voigtlander Bessa R2S 50/3.5 Heliar S NHS Commemorative in Classic Nikon Rangefinder Mount

Voigtlander SL 12/5.6 and 15/4.5 Aspherical widest EVER for NRF

Voigtlander Nikon Rangefinder SC Mount Lens Intro 21/4, 25/4, 35/2.5 intro

Voigtlander Nikon Rangefinder SC Lenses: SC 21/4, SC 25/4, SC 28/3.5, SC 35/2.5, SC 35/1.2 Prototype, S 50/1.5, S 50/2.5, S 50/3.5, S 85/3.5

Voigtlander VC Meter II small compact silicon meter with LED readout for Nikon Rangefinders

---

CameraQuest Home Shopping Cart Price List Camera Articles I Buy / Wants Repairs Books Adapters
Revised: September 12, 2017 . Copyright © 1998-2002 Stephen Gandy. All rights reserved. This means you may NOT copy and re-use the text or the pictures in ANY other internet or printed publication of ANY kind. Information in this document is subject to change without notice. Other products and companies referred to herein are trademarks or registered trademarks of their respective companies or mark holders.