Nikon F Variations
This list is not represented as being complete.
---
The first 100 or so F's, from 6400001 to 6400100 had cloth shutter curtains.
The first 25,000 or so F's had many small variations which keep serious collectors occupied. Some of these characteristics are discussed on the Early F Profile.
"Nippon Kogaku" appeared on the top right top plate until about half way through the 67 serial block, when it was replaced by "Nikon"
"Nikkor F" Originally Nikons were not imported into Germany, apparently due to a trademark conflict with Zeiss-Ikon. To get around this while the lawsuit was being resolved, Nikon F's with a "Nikkor F" Photomic finder were destined for the German market. The rarer variation is the "NIKKOR" F in all caps. See separate Profile More research needs to be done on the production.
NASA F's made for the US Space Program, total production about 30 units, special markings with dull dark gray finish.
F High Speed 7 fps: See Separate Profile About 30 made for the 1972 Olympics. 7 fps was possible with mirror lockup. A special zoom 135-300 viewfinder was used while the mirror was locked up. Inserted into the accessory shoe atop the prism, it looked very much like a large rangefinder zoom finder. At least one 7 fps model was made or converted to use the 250 back. This was apparently Nikon's reply to Canon's faster 9 fps pellicle F1 High Speed, also made for the 1972 Olympics. Hmm. 7 fps Nikon with a separate viewfinder and locked up mirror Vs 9 fps Canon and SLR viewing. Yep, this was one of the first times Canon could brag of beating Nikon at anything, see Canon High Speed. More research needs to be done on the production. If you have a F High Speed, please email me the serial number.
F 250 High Speed 7 fps -- the only 250 F High Speed known See Pics
F High Speed 9 fps Pellicle Mirror. 7 made for the 1976 Montreal Olympics, all converted from the 7 fps model. 4 of the 7 have the Canon Pellix mirror.
Two F's with White leather, numbers 6507770 and 6507771, were made at the factory on special order for the noted American photographic writer and photojournalist John Faber. Faber managed to achieve what many Nikon photographers have dreamed about: visiting the Nikon Factory and having his own special Nikons made to his specifications. The White Nikons became his trademark on international photographic trips for many years. Amazing, just amazing. Perhaps Faber chose White because of his work at the White House? As Historian of The National Press Photographers Assoc., Faber worked closely with the White House Press Photographers Assoc. Many White House photographers were interviewed for his articles and books. Faber also redesigned the White House photo lab during the Nixon administration in his capacity as senior press representative for Kodak. My thanks to Erich Faber, John's son, for sharing this information.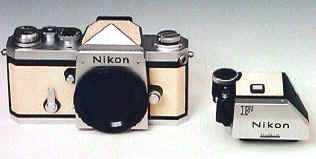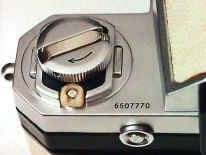 64 Black F's are hard to find, and the production is unknown. More research needs to be done on the production. If you have a Black 64 Nikon F, please email me the serial number.

65 Dull Chrome Some 65's have unusually dull chrome, much duller than the cameras which preceded or followed.

65 Red Dot: The red dot immediately before the serial number means these cameras can mount the Photomic T finder. Specifically the modification was a lowering of the raised lip along the back edge of the finder cavity to top plate level. Nikon offered it at the time as a standard upgrade, but sometimes you find abused cameras that simply had it done with a file. I thought Red Dot production was continuous, but it turns out they are not. As researched by fellow NHS member Richard de Stoutz, the first red dot is estimated at about 6581000, but not all cameras thereafter are Red Dot! Richard is currently estimating about 13,000 of the 20,000 cameras in the 658xxxx and 659xxxx serial blocks were Red Dots. As he pointed out, this inconsistency also helps explain the Red Dot. If Nikon had simply made all cameras from a certain point Photomic T compatible, there would not have been a need for the Red Dot. More research needs to be done on this.
66 Red Dot: Only about 3500 66xxxxx cameras was made, before production was stopped and resumed in the 67xxxxx range. I presently believe all 66 F bodies are Red Dots. The accepted story is that Nikon realized it made a mistake in re-using the 66 block previously used for the S3M, and so switched to the 67 block. However this story makes no sense to me, since Nikon previously re-used the 65 block from the Nikon S4. According to Nikon, no black 66 body ever left the factory. Beware of Black 66 bodies--fakes do exist. More research needs to be done on the production.
US Navy F Spy Camera newly discovered 12/98 see profile
Apollo F with F2 cosmetics: The F was produced several years after the introduction of the F2. In the late 73 range, F cosmetics were upgraded to match those of the new F2, including F2 styled plastic tipped winding levers, plastic tipped self timer, and threaded PC outlets. Officially never called a new model, collectors call them the "Apollo" F after the Apollo space program, though I have been unable to document any connection between the US Space program and these cameras. Again, production does not seem to be continuous. More research needs to be done on the production.
These pics show the plastic tipped self timer and advance levers.
US Military F's were made for the US Navy KS-80A, USAF, and Marines. see separate profile
Black and chrome models were offered throughout production.
Special Mirror F Lock up models appear in several variations. Most were manufactured by Nikon for the superlative American Mirror Lens manufacturer Questar. Sometimes they can be found still with the "Questar" adhesive sticker on the left front. Others were modified by independent repairmen or perhaps by Questar. The modification allowed one step mirror lock up, rather than the normal F practice of losing a frame before the mirror was up. Notice the button between the depth of field button and the normal mirror lock up button.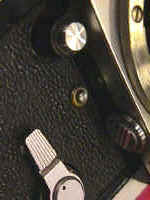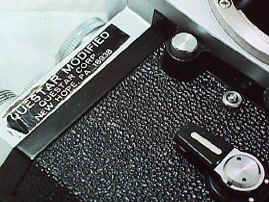 F with F2 Meters In the early 70's when the F2 was just introduced, an innovative Los Angles repairman converted F's to take the more advanced F2 meter prism. He installed a battery compartment into the body to power the F2 Meter. These are very rare, but they do exist.
F's with mismatched parts are very common. Early prisms and focusing screens can be fitted to late cameras, and vice versa. Backs, advance levers, self timers and lenses can be interchanged as well. Mismatched F's are worth less to collectors.
F's are normally classified according to their finder. A standard F with prism becomes a Nikon FTN just by replacing the prism finder with a FTN Photomic finder.
---
Revised: November 26, 2003 . Copyright © 1998-2002 Stephen Gandy. All rights reserved. This means you may NOT copy and re-use the text or the pictures in ANY other internet or printed publication of ANY kind. Information in this document is subject to change without notice. Other products and companies referred to herein are trademarks or registered trademarks of their respective companies or mark holders.